For USW member Kitty Loepker, health care fight is personal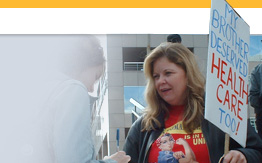 September 21, 2009
My name is Kathleen Loepker, and I'm a member of United Steelworkers Local 1899 in Granite City, Illinois. I would like to introduce you to my brother, Dale Robert Loepker. Dale was allowed to die on Sept. 28, 2004, because he was neglected at two hospitals because he didn't have health care insurance.
On Thursday, Sept. 16, when Dale woke, his hands and feet were extremely white. He went to St. Joseph's Hospital in Breese, Ill. When he arrived his blood pressure dropped drastically. They airlifted him to St. Elizabeth Hospital in Belleville, Ill. There they determined that he had a blood infection. They put him on a strong antibiotic. That night at 2:30 a.m., my mom was called and told that Dale's condition had changed. She rushed to the hospital to find them trying to revive Dale and place him on a ventilator. They were successful. They believed he had allergic reaction to the antibiotic and his wind pipe swelled shut.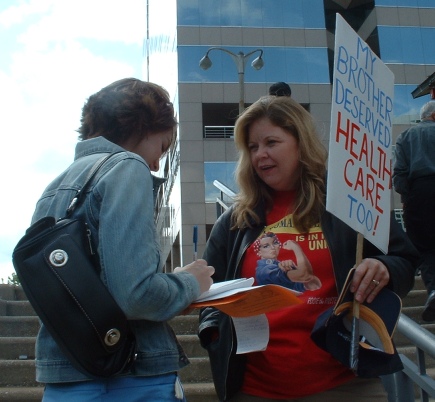 Dale was in the Intensive Care Unit from Friday morning until Monday afternoon. On Tuesday afternoon, Sept. 21, they sent Dale home even though he was still complaining of feeling very ill and having severe stomach pain. They basically did what they are required to do and that is to stabilize the patient and send him home.
Two days later on Thurs., Sept. 23, Dale returned to St. Joseph's Hospital, complaining of severe stomach pain. They took a blood test and found he was low on potassium and calcium and sent him home with a prescription.
The next day, Friday, I saw Dale, and he held my hand and said, "Kitty, I'm dying, please take me to Rush hospital in Chicago, where they will take care of me." I told him he wasn't dying, he just had an infection and he needed to take his antibiotics and he would get better.
I was in contact with him over the weekend. On Monday, Sept. 27, my Mom and I saw him and he was still feeling very ill.
Tuesday morning Dale did not wake. Dale died! He was my youngest sibling. He was only 40 years young. The autopsy revealed that Dale died of diverticulitis. This is when one's intestines get infected and pouches form. If they go untreated, they burst and one is poisoned to death. Dale was poisoned to death because he didn't have health care insurance.
Kitty Loepker has been a leader in the Rapid Response program for the USW Local Unions at Granite City Steel since it's inception in 1995. She has also worked tirelessly for health care, fighting for universal care for all, especially after the death of her brother.