Event introduces federal bill: 'Build America Bonds to Create Jobs Now Act'
Contact: Gary Hubbard, 202-778-4384 (O); 202-256-8125 (C); ghubbard@usw.org
Washington, D.C. (Feb. 11, 2011) – Democratic Leader Nancy Pelosi joined House Democrats and USW President Leo W. Gerard to raise their voices yesterday, sending a clear message that the number one national priority is to create jobs.
"Americans are demanding that we put jobs first; that we act to invest in our future and help our economy grow," declared Leader Pelosi at a news conference in a U.S. Capitol room jammed with more than 100 USW members and activists of the union's Rapid Response Network.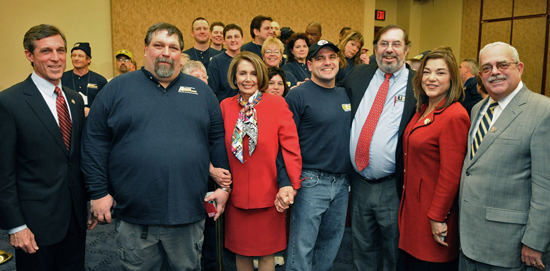 Speakers at the U.S. Capitol Press Event (l-r): U.S. Rep. John Carney, Jr. (D-DE); Barry Mortimer, USW Local 1001 activist at Osram-Sylvania Co., Wellsboro, PA; Democratic Leader Nancy Pelosi; Aaron Patterson, USW Local 1152-L President at Cooper Standard Automotive, Bowling Green, OH; Leo W. Gerard, USW International President; U.S. Rep. Loretta Sanchez (D-CA); U.S. Rep. Gerry E. Connolly (D-VA) - Photo by Steve Dietz
USW President Gerard reminded reporters behind the "Jobs Now" podium sign that more than 50,000 factories in American have shutdown in the past decade. "Everyone in these communities is affected," he said. "The schools with reduced taxes from fewer pay checks in the community, to the little corner stores and the suppliers. If we are concerned about getting out of debt, we need to be making things and getting everyone back to work."
He cited proposals for infrastructure repair, high speed rail and rebuilding water treatment plants as examples.
U.S. Reps. Gerry Connolly (D-VA), Loretta Sanchez (D-CA) and John Carney (D-DE) each spoke to the bill introduced in the new congressional session by Leader Pelosi, the Build America Bonds to Create Jobs Now Act, (H.R. 11). As a lead sponsor of the bill, Connolly called the Build America Bonds program a jobs bill. "During the last two years, $4.4 billion from the Recovery Act leveraged $181 billion in bonds needed for school construction, bridge and road repairs that created jobs." He said the bonds expired in December and need to be renewed.
USW Local 1152 President Aaron Patterson told the media gathering that the manufacturing recovery wasn't working for them after their rubber auto parts maker, Cooper Standard Automotive in Bowling Green, Ohio, last Friday announced the shutdown of their plant that's transferring jobs to Mexico, because Ford Motor Corp. wanted the cheapest hoses they could get. A group of 24 of the 200 workers at the Ohio plant were present.
The Bowling Green local union president looked at Pelosi, saying: "We need you to work with members of Congress to create policies that sustain our jobs."
The USW activists at the press event were among 700 participating in a 'Lobby Day' on American worker job advocacy issues legislation such as currency reform, extension of enhanced Trade Adjustment Assistance (TAA), opposition to the U.S. – Korea and Colombia free trade agreements, and approaching the budget deficit battles with common sense solutions that don't endanger economic recovery and job growth.
Also speaking was Barry Mortimer of USW Local 1001, a rapid response coordinator at his plant of 110 at Osram-Sylvania in Wellsboro, Pa., where halogen light bulbs are fully U.S. made with energy saving standards. "Everything is made in America, including the box the light bulbs are packaged in," Mortimer said. "We need every government building in America to be buying and installing our bulbs to promote domestic jobs and energy savings."
Pelosi said, "Working together, we can expand our economy through innovation and public-private partnerships. We can invest in transportation, in clean energy and manufacturing in new industries."
The Democratic Leader's Jobs Program can be accessed at: http://www.democraticleader.gov/
# # #