District 11 Director, Robert Bratulich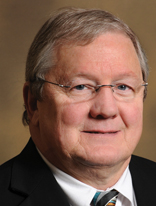 Bob Bratulich was elected Director of USW District 11 in November of 2005, took office March 1, 2006 and was re-elected in 2009 as Director of the District that serves 34,000 members in nine states, six of them right-to-freeload states.
Bratulich began his union career as an apprentice electrician in 1970 with USW Local 1938 at U.S. Steel's taconite mine and processing plant in Mt. Iron, Minn. He performed numerous functions for Local 1938, including chairman of the grievance committee, before he was elected president of the 3,200-member local. He served three terms.
In 1993, Bratulich was appointed to the USW International staff and bargained first contracts for seven newly-organized health care facilities.
In 2000, he was named District 11 Sub-district Director. He was responsible for the Eveleth, Minn. office that served the northern half of the state, including numerous iron ore mining locals.
In the USW's five-year-long conflict with Kaiser Aluminum beginning in the late 1990s, Bratulich worked closely with then-District 11 Director David Foster who led negotiations as 2,900 Steelworkers at five aluminum plants struck in the fall of 1998. Kaiser hired replacements, then locked out Steelworkers in January of 1999. The USW won a massive settlement when the dispute was settled in arbitration, and Kaiser went bankrupt. The workers emerged with a well-funded VEBA for retirees and the right to appoint four members to the 10-member Kaiser board of directors.
In the midst of that ordeal in 2001, Bratulich became Assistant Director for USW District 11 and Foster gave him responsibility for bargaining. Bratulich also presented numerous arbitrations of disputes in industries including aluminum, iron and steel.
Bratulich has broad negotiating experience with bargaining assignments in iron ore, steel, aluminum, rubber, health care and other industries. Among the goals he accomplished as Director was assuring for iron ore miners equity with workers in basic steel.
The headquarters for District 11 in Minneapolis, Minn.
USW District 11
2929 University Avenue, SE
Suite 150
Minneapolis, MN 55414
612.623.8045 - Telephone
612.623.8854 - FAX
State(s): IA, KS, MO, MT, MN, ND, NE, SD, WY