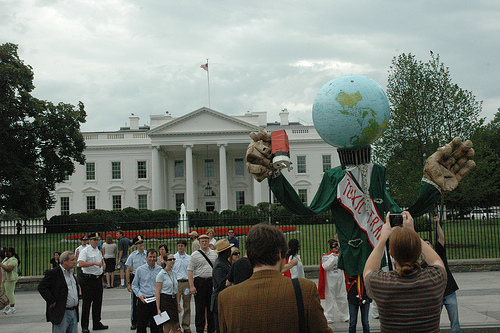 Children pointed, tourists snapped photos, and Washington D.C. office workers on lunch break stopped to stare as the gargantuan "Toxic Trader" puppet lurched down Pennsylvania Avenue today past the White House on its way to the Bush administration-backed Import Safety Summit.
There, in this street theater production, the puppet attempted to confront corporate lobbyists, CEOs and Bush administration officials meeting at the Grand Hyatt Hotel. "Toxic Trader" wanted to eliminate trade barriers and implement voluntary standards for safety instead of instituting government inspections for consumer protection against unsafe imports. But union supporters dressed as the red-caped "Toxic Avengers," saved the day.
Later, steelworkers also dropped a huge banner inside the hotel as the Import Safety Summit completed, announcing to the participants "Unfair Trade Kills." These victims have included a four-year-old boy who died after swallowing a lead pendant that came on his shoe, 81 patients who succumbed after using contaminated heparin blood thinner imported from Chinese manufacturers, and two Philadelphia carpenters who died in a car crash caused by defective imported tires.
These deaths are detailed in a report issued yesterday called "The Toxic Truth: Unfair Trade Kills," available at usw.org.
The street theater production was created by the United Steelworkers to protest unfair trade practices that have resulted in toxic imported products and exported American jobs. It features the "Toxic Trader," an oversized puppet created by artist Tavia La Folette, whose gargantuan three-dimensional caricatures have toured Europe, Eastern Europe, South America and Japan.
"Toxic Trader" performed today with the help of Service Employees International Union interns, the AFL-CIO and rallying and marching devotees to the cause from Communication Workers of America, Jobs with Justice, the Sierra Club, and Public Citizen.
They chanted as they marched several blocks, from the AFL-CIO headquarters to the Hyatt, with the aid of a Washington, D.C., motorcycle police officer motorcade. Chants included, "Gas is lead-free, why can't toys be?"
The "Toxic Trader" carries a Thomas the Tank Engine replica in one of its gigantic hands because Thomas was among the beloved toys made in China that was recalled because of toxic levels of lead paint. Another chant was, "Get the lead out; get the greed out."
After marching to the hotel and performing, speakers addressed trade issues, using a bull horn in front of the Hyatt, where the Import Safety Summit meetings were being conducted.
Joslyn N. Williams, president of the Metropolitan Washington Council of the AFL-CIO, told the gathering, "You are true patriots willing to stand up to multinationals and put public interests above corporate interests."
"We are here today to say we are not willing to stand by and allow American interests to be subjugated to corporate greed," he added. He urged them at the end: "Put people above profits!"
Liz Laycak, an intern at the United Steelworkers, who performed as a "Toxic Avenger," told the group her father lost his job because his plant was outsourced and her family was living on the streets. "To everyone who has ever suffered," she said, "We can stop it together . . . we will take these greedy CEOs off their high tower."