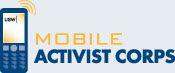 USW members can now receive updates anytime, any place with a new program that sends notifications directly to members' cell phones. The Mobile Activist Corps program will send text message alerts to participating members, informing them of news and events that are related to local and state politicians. For example, USW might text message a member about a governor candidate's campaign event, if it is close to his or her area.
Faster than e-mail and telephone, the text messaging program is available for all areas of the United States and Canada. To gain access to the latest USW news via cell phone, text your state abbreviation and name to 412-427-8430. (Ex: Pa. Jane Smith)
Standard text messaging rates apply.