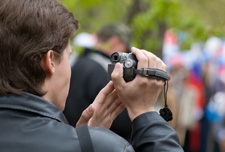 A picket line in Alabama. A toxic trade rally in Washington, D.C. Safe home sessions in Michigan and Canada. A protest against Occidental Petroleum in Los Angeles. Helping miners in Mexico.
USW members are everywhere, doing many things to help working families across the world. We want to share your stories and now it's easier than ever with the union's new online video tool.
Upload your short video – two minutes tops is best – and fill out the form letting us know it's there. It's that simple!
We're always looking to feature new videos that inspire workers to unite on politics, job security, health, safety and the environment and more. So don't forget to record rallies, press conferences and other events, then send your videos to us. You could be featured on usw.org!
If you've got any questions or suggestions, e-mail us at video@usw.org. In the meantime, here are a few commonly asked questions and answers:
What file formats can be uploaded?
* .3GP
* .AVI
* .DV
* h.264
* .MPEG2
* .MPEG4
* Quicktime
* .WMV
What is the maximum file size or video length that can be uploaded?
The maximum file size for upload through a CGM campaign is 100 MB, which for many of the formats above is usually two to three minutes in length. We recommend that you limit the length of the video to two minutes.
My video is live but how can I improve the quality?
Brightcove uses best-of-breed technology to convert your video into Flash video, a popular format that works well on the Web and across the Brightcove service. Try to start with high-quality video that is bright or well lit, and has not already been compressed heavily for use on a low quality platform such as a mobile phone.
What platforms/operating systems can I upload from?
Windows: WinXP, WinXP SP2, Win2000
Mac: MacOSx 10.2 and later
Windows browsers: IE 6, IE 7, Firefox 1.5, Firefox 2.0
Mac browsers: Safari, IE, Firefox