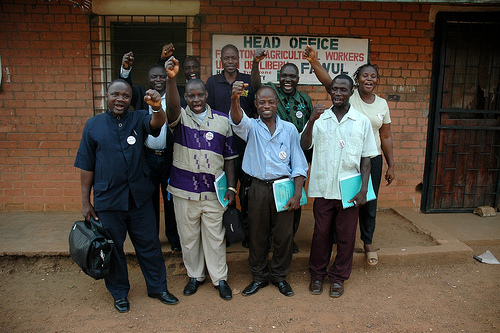 Workers at one of the world's largest rubber plantations will receive wage increases, an improvement in work conditions and upgraded housing and educational facilities thanks to a historic labor agreement.
The Firestone Agricultural Workers Union of Liberia, also known as FAWFUL, signed the deal with Firestone late yesterday (Aug. 6, 2008.) The new collective bargaining agreement covers more than 4,000 union members and provides significant gains for workers, including wage increases of 24 percent for rubber tappers, retroactive to the expiration of a previous agreement in January of 2007.
"The agreement at Firestone marks a new day for workers throughout Liberia," said USW International President Leo W. Gerard. "It is also a crucial victory in the global fight for workers' rights."
The USW, the Solidarity Center and others have helped the Liberian workers throughout their journey. Read more about the historic agreement here. Check out a photo slideshow here. And watch a video about their story, "A New Day," here: