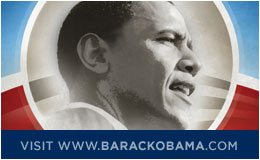 In his recent keynote speech at the USW convention, International President Leo W. Gerard said the upcoming national elections afford us the opportunity to reverse the terrible policies under which workers and their families have suffered for most of the last 28 years.
Gerard asked members to "seize the moment" and get active to change the course of history for workers.
August 28 will offer us one of those historic "seize the moment" opportunities. That evening, Sen. Barack Obama will deliver his acceptance of the Democratic Party's nomination to 75,000 people at Mile High Stadium in Denver and to millions more on television.
The USW is asking members to join with their friends, family and union sisters and brothers to gather together to watch this historic event.
We've put together an online tool kit to help you plan a fun and meaningful gathering. Check out the downloadable flyers and tip sheet below. Check with your district director and visit www.usw.org often for a list of planned events and other important news.
Downloadbale PDF files:
Obama vs. McCain on Health Care
Obama vs. McCain on Workers' Issues