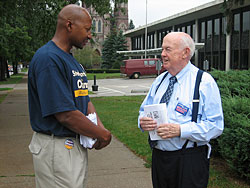 USW Local 3199 member Ron Oliver is featured in this photo with AFL-CIO President John Sweeney. The pair were at a recent worksite leaflet action to spread the word about Barack Obama and Joe Biden. The AFL blogged today about USW activism:
Only 50 crucial days remain before the presidential election, and the union movement is working around the clock to get out the message that on issues such as health care, retirement security and jobs, Sen. Barack Obama's plans would support working families. In sharp contrast, Sen. John McCain would provide more of the same failed economic policies as George W. Bush that benefit the wealthy at the expense of working families.
Field reports from Pennsylvania, Colorado and Indiana highlight the AFL-CIO union movement's intense political mobilization efforts. This weekend in Erie, Pa., AFL-CIO President John J. Sweeney took part in the Labor 2008 political program along with Electrical Workers (IBEW) members, reports Frank Snyder, Labor 2008 state director for Pennsylvania. Read more of this report from the AFL-CIO blog here.