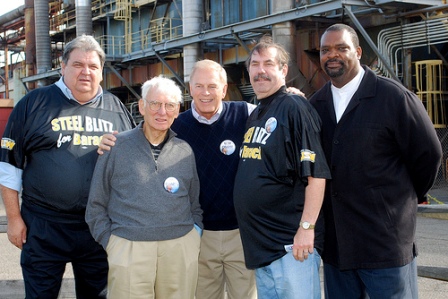 Steelers legends Franco Harris and owner Dan Rooney are scheduled to be on the latest leg of the USW's Steel Blitz for Barack bus tour, which has been stopping at mill towns throughout Pennsylvania and Ohio to rally support for the Obama-Biden ticket.
The rallies will be held in Altoona and Johnstown, Pa. at 5 p.m. and 7:30 p.m. Click here for more details.
Pittsburgh Steelers' owner, Dan Rooney, and retired Steelers have teamed up with the United Steelworkers for the four-week tour, which has drawn enthusiastic crowds. USW members and others have heard speeches, had a chance to buy the limited-edition Steel Blitz for Barack jersey, get autographs and most importantly, sign up to volunteer for the campaign in the crucial final weeks before the election.
Click here to read a report and view photos from last weekend's stops in Ohio, where Gov. Ted Strickland joined the tour. And click here for a report and photos from the kick-off leg in Uniontown, West Mifflin and McKeesport, where Super Bowl champion Mike Logan was our guest.