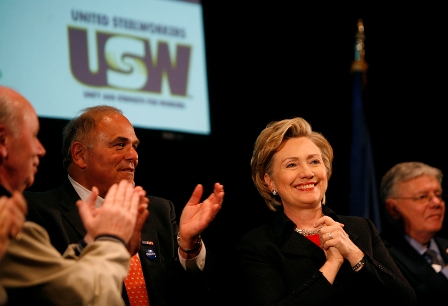 At an event billed as "Hot Dogs with Hillary," it was clear that the 1,000 retirees, union members and activists who showed up at the Westin Convention Center Hotel in Pittsburgh Friday came for Clinton, not wieners.
The 1,000 Hillary Clinton fans and Barack Obama supporters who crowded into a third floor ballroom at the hotel relished a reference by the New York Senator to John McCain as a dog. Clinton noted that McCain had voted with President George W. Bush 90 percent of the time, so he should be rejected because "you can't teach an old dog new tricks."
She was joined on the stage by labor leaders including Leo W. Gerard, international president of the United Steelworkers, and political leaders, such as Pennsylvania Gov. Ed Rendell.
Both she and Gerard recounted questions they're often asked as the stump for Obama.
Gerard told the crowd that he's often asked if Republican vice presidential candidate Sarah Palin's husband, Todd Palin, really is a steelworker, as Palin often tells crowds.
"Sometimes I want to lie and say, 'no,'" he confessed.
But he doesn't. What he does instead is turn it around and ask a question of Sarah Palin. "I want Sarah Palin to stand up and say whether the family had health care before Todd Palin became a steelworker, whether they had a good wage before he became a steelworker," he said.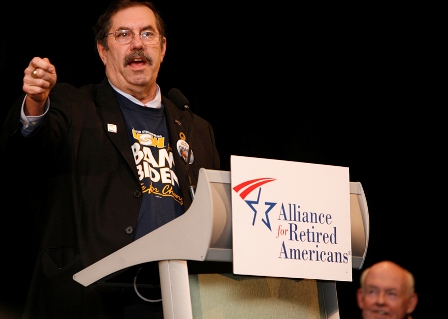 He added that what he really wants is for Palin to tell John McCain that he's wrong to oppose the Employee Free Choice Act, which would ease formation of unions, because every American deserves the opportunity to organize a union if he chooses.
Clinton said the question she's frequently asked, now that she's no longer a candidate for the Democratic nomination, is, "Who are you for?"
That, she said, is the wrong question. What people should be asking, she said, is: "Who is for you?"
And that, she answered, is Barack Obama. She noted that his tax plan will provide breaks for 95 percent of working families.
He will create jobs in renewable energy projects and infrastructure improvements, she said. In fact, because he is so focused on jobs creation, Clinton said she coined a new slogan for the campaign. It is: Jobs Baby Jobs!
She pointed out that Obama will protect Social Security, a particularly important point to the audience at an event organized by The Alliance for Retired Americans and sponsored by the USW, AFSCME and the AFL-CIO.
"Social Security is a sacred compact among generations," she said, one that Republicans have objected to since Franklin Delano Roosevelt created it and have always tried to chip away at. A huge chunk would have fallen out, she noted, had Bush and McCain gotten their way, enabling a portion to be invested in stocks.
"What would have happened to Social Security in the past month had it been invested in the stock market," she asked the crowd to a chorus of boos.
"Barack Obama and Joe Biden are for you. That is why I am for Barack Obama and Joe Biden," she told the group, and then implored, "get behind Barack Obama as strongly as you supported me."
Gov. Rendell, who was among Sen. Clinton's biggest supporters in Pennsylvania during the primary, asked the crowd to go out and support Democrats running for Congress and the state legislature so that he – and Obama – will be able to pass legislation to cover more Americans with health insurance and accomplish other important goals to get the country back on its economic feet.
Allegheny County Chief Executive Dan Onorato exhorted the crowd to work hard over the next week and a half to persuade their family, friends and neighbors to vote for Obama. "I can't wait until Nov. 5 to tell the pundits they were wrong. This is not a swing state. This is a blue state," he said, adding, "How dare they say that people who voted for Hillary would vote for McCain?"
Gerard agreed that he's tired of hearing that Pennsylvania is a swing state, and told the group, "We have to win Pennsylvania big!"
He acknowledged that for many of them, the issue of Social Security is important, but he said, "This is not about you. It is about our kids and grandkids, so they have the same shot in life that we did."