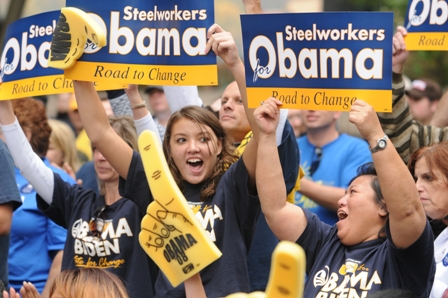 PITTSBURGH – At the United Steelworkers' (USW) recent international convention, President Leo W. Gerard called upon members to "seize the moment" and work for change in the most important election of our lifetimes.
Across the nation, the union's members heeded the call with unprecedented activism – much of it featured in a new video being released today, "Road to Change."
The video caps off an exciting week in which USW members have been celebrating victories by Barack Obama and other pro-worker candidates, particularly in key battleground states such as Pennsylvania, Ohio, Indiana and Florida where the USW mounted historical outreach efforts to educate voters on key issues and talk through other factors such as race.
Read more of this story here. And watch the video here.