WASHINGTON, D.C. - United Steelworkers members were among the thousands of workers from across the country who rallied today at the nation's Capitol in support of the Employee Free Choice Act and economic renewal that works for working families.
Hundreds of Rapid Response attendees joined other activists at the Washington, D.C., gathering where USW International President Leo W. Gerard emceed the event.
The Rapid Response activists then helped deliver some of the 1.5 million cards supporting the Employee Free Choice Act to the steps of Congress and spent the rest of the day lobbying lawmakers on issues important to working families, including Buy America and domestic sourcing and the free choice law, which would give employees - not employers - the rigth to choose how they vote for a union and bargain for a better life.
The rally featured testimony from workers who lost their jobs after trying to organize and speeches from lawmakers, including U.S. Rep. George Miller.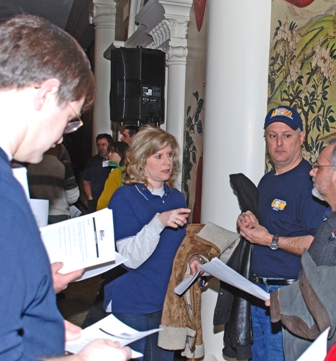 "Time and again, you've seen your hard work, your creativity, your ingenuity, your productivity taken from you and given to shareholders, to the elites, to CEOs. Decisions about the workpace belong to the worker…that's the promise of America. It's fooish to think we will rebuild this country wirhout the participation of the American worker," Miller said.
You can read more about the rally and the Million-Member Mobilization supporting the Employee Free Choice Act here. And get up to date on the USW's Make Our Future Work economic renewal campaign here.