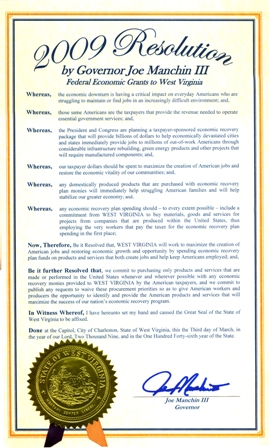 Hundreds of USW members and retirees packed the West Virginia Capitol yesterday to rally for jobs and to push lawmakers to keep American tax dollars in the United States. They cheered wildly when it was announced the state House of Delegates passed a "Buy American" resolution that requires that federal economic recovery monies be spend on U.S.-made products and services.
"If you put the stimulus money into American goods, American workers will be employed, and they'll spend money, and the economy will get back on track," said Billy Thompson, director of USW District 8, which includes West Virginia, Kentucky, Maryland and Virginia. Click here to read Thompson's speech in its entirety.
Pushing the resolution and tracking tax dollars to ensure they are spent to create jobs at home is part of the United Steelworkers' Make Our Future Work economic renewal movement.
In West Virginia, all 67 Democrat delegates voted in favor of the resolution, while 11 of the 28 Republicans present in the House voted against it. Five delegates were absent. Also Wednesday, the Kentucky House passed the "Buy American" resolution 100-0.
The state lawmakers were the first to OK the resolution being pushed by USW members across the nation. So far, it has been introduced in more than 500 cities, towns, boroughs, counties and states. (Click here to track the resolution. And click here to download the resolution tool kit.)
West Virginia Gov. Joe Manchin signed the USW's "Buy American" resolution at the rally, drawing a standing ovation.
"All we're saying is, as Americans, let's take care of America," Manchin told the cheering crowd.