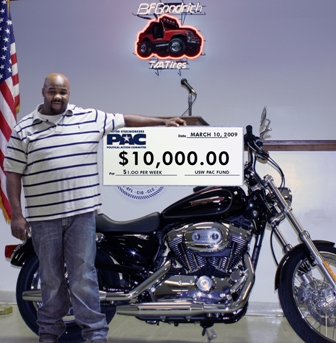 USW Local 351L member Joslyn Jones, a builder in the tire room at B.F. Goodrich Tire plant in Alabama is the lucky winner in the Political Action Committee's latest drawing.
Jones of Brookwood, Alabama, had his choice of a Harley motorcycle or cash. He chose the cash.
United Steelworkers Local 351L represents 1365 workers at the B.F. Goodrich Tire Plant here in Tuscaloosa, Alabama. For more information about the local, visit its site here.
PAC contributions are voluntary and are only used to support labor friendly candidates and initiatives. PAC is strictly non-partisan. Each dollar raised will be used to help elect candidates who will stand up for working men and women.
Click here for more information about PAC.