Georgia Pacific Workers to Rally for a Contract and EFCA
Georgia Pacific-Wheatfield is a prime example of why we need the Employee Free Choice Act (EFCA). The company has stalled and refused to reach a fair agreement for two years after the workers decided to form a union.
They have unfairly disciplined union supporters and fired a key activist for using the company "hot line" to express a complaint on behalf of his co-workers.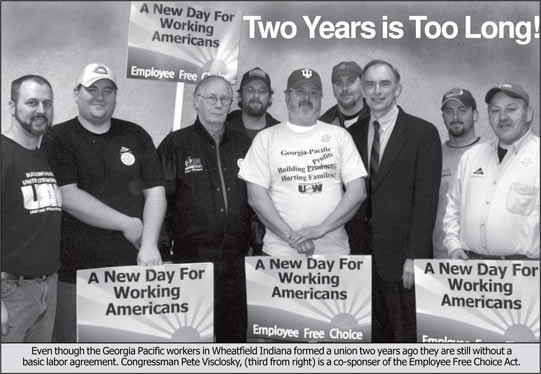 In response to modest, reasonable Union proposals, the Company has insisted on wage and benefit concessions – despite making over $40 million profits. A clear attempt to bust the union.
The workers will be holding a Support Rally on Tuesday, March 31 at 8:15 a.m. at the Hampton Inn, 1451 Silhavy Rd., (behind Strongbows at Route 30 & 49) in Valparaiso, IN
For more information, contact the United Steelworkers at 219-881-6224