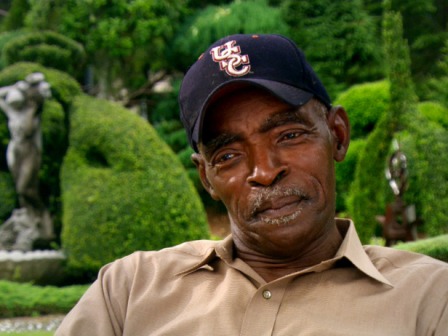 HGTV is now airing a documentary about the gardens of former USW local president Pearl Fryar.
The film is also available on DVD. You can buy the award-winning movie at Amazon.com or New Video. A bonus soundtrack CD is included.
Fryar, former president of Local 8634 at the Rexam Beverage Can Americas plant in Bishopville, S.C., is nationally recognized for his self-taught topiary skills.
The union did a feature about Fryar and the movie "A Man Named Pearl" in the Spring 2007 edition of our magazine. In case you missed it then, here's that story:
For many years, Pearl Fryar would end his shift at the aluminum can factory in Bishopville, S.C. where he was the local union president and go to work on the garden in his back yard.

"All I wanted to do was have a nice yard and win the Yard of the Month award from my home town,'' recalled Fryar, retired president of USW Local 8634, which represents production workers at the Rexam Beverage Can Americas plant.

He won the garden club award and more. Today Fryar is the subject of an award-winning documentary film and is nationally recognized for his self-taught skills in topiary, the art of cutting trees and shrubs into imaginative shapes. His work has been displayed in museums across the South and on television shows including CBS Sunday Morning and Home & Garden Television (HGTV).

The full-length documentary film, "A Man Named Pearl," last October won a Crystal Heart Award at the 15-year-old Heartland Film Festival in Indianapolis as well as the festival's Audience Appreciation Award.
Film-goers gasped at an opening shot showing Fryar as he climbs a 15-foot ladder and turns on the gas-powered trimmer he uses to trim shrubs and trees into squares, circles, whimsical coils and abstract designs with a center piece reading "Peace, Love and Good Will."

Tucked neatly among the more than 400 topiaries in his yard are metal sculptures designed from junk and scrap metal he collects from the can plant and from a friend's machine shop.

Audience response amazing

Scott Galloway, who directed the film with Brent Pierson, said audiences, after watching the documentary about Fryar's life and garden, reacted to him as if he were a rock star.

"It was like meeting the Beatles,'' Galloway said. "People were jumping out of their seats. It was just amazing."

Fryar's topiary influence can be seen in the center of Bishopville, along local highways and on the lawns of his neighbors, said Floyd Ison, current president of the local.

"He's a busy person," Ison added. "It's something to see.''

Galloway said Fryar worked out a deal with a local nursery, which gave him access to a pile of throw-way plants that nobody wanted to buy. He planted them, shaped them and turned them into a work of art that is now a bona fide tourist attraction.
Fryar started trimming the bushes outside his home in 1984. His neighbors took notice and as word spread, more and more visitors began touring his yard. Eventually, the road to his house was widened to allow for tour buses and the heavy traffic that his beautiful plants attracted.

Tour buses stop

Tour buses stop regularly. Local students take field trips. And while there is a donation box, there is no fee to visit the grounds and no one is turned down for inability to donate.
Fryar enjoys working with young people and is a frequent motivational speaker at high schools, colleges and universities – opportunities that developed from his garden work. He is an artist-in-residence at nearby Coker College.

Galloway met Fryar while filming a project on fabulous gardens for the regional cable network Turner South and its Blue Ribbon series.

"When I first met Pearl he didn't talk to me about his garden," Galloway said. "He talked about his love of kids, trying to help those who were disadvantaged or from broken homes and considered to be high risk."
The film then is an allegory about overcoming obstacles. Fryar takes plants that nobody wanted and turns them into works of art and he works with children who are often also overlooked.

Life's obstacles

As Fryar says, "In this life you're gonna have obstacles. The thing about it is, don't let those obstacles determine where you go."

In an interview, Fryar also noted the obstacles he overcame as president of a local union in South Carolina, a right-to-work state.

A native of North Carolina, Fryar moved to Bishopville in 1976 after working at a union-represented company in New York. He helped to persuade local workers that the union was a good idea.

"At the time people didn't really understand what the union was about,'' he recalled. "I told them about the benefits and convinced enough of them to vote."

The journey was sometimes rocky. Union membership dipped at times to very small numbers. But Fryar and the union held on. Today the plant employs 85and 77 belong to the union.

"People now realize what a difference the union makes,'' he said.

Fryar has never stopped dreaming. He would like to set up a foundation to make sure his garden is preserved and use any proceeds he eventually gets from the movie to establish scholarships for kids who need a lift.

"I feel everyone has a God-given talent,'' he said.

A film trailer can be viewed at the Heartland Film Festival website, www.heartlandfilmfestival.org. The film has its own website, www.amannamedpearl.com. Fryar has one his own site too, www.fryarstopiaries.com.