Employee Free Choice Rally
Several hundred workers spent part of their day on Tuesday, April 7, 2009, rallying at the federal building in downtown Harrisburg, Pennsylvania to demand that Senator Arlen Specter stand up for working families and support the Employee Free Choice Act.
The event was sponsored by USW District 10 Rapid Response, and the Pennsylvania AFL-CIO joined with the steelworkers, CWA, SEIU, Teamsters, AFSMCE, UFCW, NALC, Professional Nurses, Building Trades, IBEW, SOAR and Laborers Unions.
USW members who attended Tuesday's rally took the opportunity to deliver over 3,000 handwritten notes to Specter's office, calling on the senator to reverse his position on Free Choice a second time – the 29-year Senate veteran initially supported the legislation but last month announced that he would not vote in favor of the bill.
"We're not naïve enough to think that partisan politics didn't have something to do with his reversal," said USW Local 9999 member Ed Sadusky. "We are extremely disappointed that Sen. Specter has chosen this route and we want him to know that we expect him to reconsider his position on this critical bill."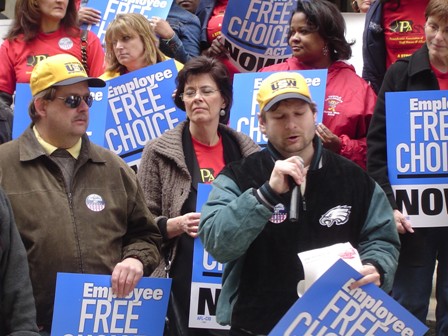 The Employee Free Choice Act, which has drawn support from a bipartisan coalition in Congress, would enable working people to bargain for better benefits, wages and working conditions by restoring workers' freedom to choose whether to join a union.
"Specter has been threatened with losing his job, intimidated, harassed by co-workers, etc. – just like workers who wish to organize," said USW National Rapid Response Coordinator Tim Waters. "It's no wonder the intimidation has pushed him to change positions."
"Now he understands a little bit of what workers deal with daily," Waters said, "and we need him to get back to supporting this bill as he has done since 2003 until just last week."
If passed into law, Employee Free Choice would remove current obstacles to employees who want to bargain collectively, guarantee that workers who choose to form a union in their workplaces are able to achieve a contract and allow employees to form unions by signing cards authorizing union representation.
Restoring the right of working people to form unions and bargain collectively is just as important to turning around the economy and rebuilding America's middle class as any other part of an economic stimulus package.
Union members are 52 percent more likely to have employer-provided healthcare, nearly three times more likely to have guaranteed pensions and earn 28 percent more than nonunion workers. No matter what else we do to turn around America's economy and rebuild the middle class, we will not have broadly shared prosperity until we restore workers' free choice to bargain with their companies for a better life – without corporate intimidation.
The USW has another six similar demonstrations planned in other parts of the state over the next few days to deliver our message and to deliver tens of thousands of personal notes and postcards to let Specter understand the union's position.