The Union Man
As a member of the working class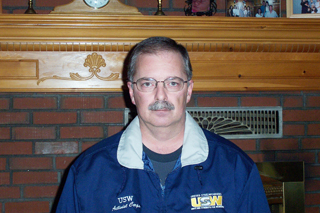 Many ups and downs I've had
The good times come, the bad times pass
And the good outweighs the bad
I've been on strikes, in picket lines
When the times were hard as hell
For what was fair and rightly mine
Just to raise my family well
A truth I've learned in all the years
If the working man survives
In spite of hunger, hardship, fears
The Union must be kept alive
But who will know I've come this way
When I have reached life's span
If nothing else just let them say
He sure was a Union Man.
Anonymous
Bruce D. Roy was a true union man. The USW activist died unexpectedly April 7 at his home. He was 52. Roy worked for more than 29 years at the James River, Otis Mill (presently Wausau Paper Co.) in Jay, Maine. He was a back tender on the No. 11 paper machine.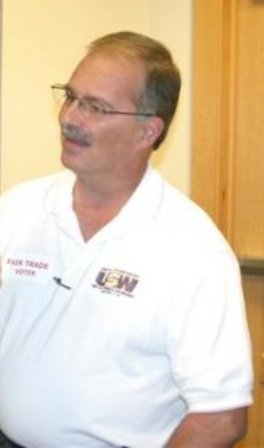 He was an active member of USW Local 11 and served as treasurer/recording secretary and president of the USW's Maine Labor Council. He also served as secretary/treasurer for the Maine AFL-CIO. Much of Roy's time in these positions was spent lobbying for laws to aid and protect working families and working tirelessly to elect pro-working family candidates. A devoted campaign supporter of Rep. Michael Michaud (D-Maine), he accompanied him on the campaign trail.
Roy was a charter member and officer of the Western Maine Labor Council. Within his local he was a Communications Action Team member.
In August 2008 he was appointed the Emergency Response Team coordinator for USW District 4, and supported families affected by a workplace fatality or critical injury.
USW District 4 honored him December 2008 for his activism and advocacy for USW members and their families. He was recently appointed and confirmed to the Maine Workers' Compensation Board.
Roy served his community as a former selectman, assessor and overseer of the poor for the town of Jay and was currently a member of the board of assessment review for Jay and the Tri-Town Ministerial Fuel Fund of Livermore Falls, Maine.
He is survived by his wife, Nancy; two daughters, Jessica Dolloff and her husband, Brian, and Joanne Grundy and her husband, Keith; five grandchildren, Courtney and Britney Grundy and Logan, Isabell and Cooper Dolloff; and a sister, Jane Pulver.
If desired, contributions may be made to the education fund for the grandchildren of Bruce Roy, c/o Finley Funeral Home, 15 Church St., Livermore Falls, ME 04254.
Messages of condolence can be sent to www.finleyfuneralhome.com