The United Steelworkers honored its fallen members today with a Workers' Memorial Day ceremony at the USW International headquarters. Similar ceremonies are taking place all across the country today, drawing attention to the unfortunate fact that millions of workers are seriously injured or killed on the job as the government continues to do little to change things.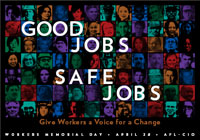 Here's what the AFL-CIO has to say in its blog today:
The very real threat of being killed or seriously hurt on the job hangs over every worker and workplace in the nation. In 2007—the year with the latest available figures—5,657 workers lost their lives on the job and more than 4 million other workers were hurt or made ill, according to the AFL-CIO's 18th annual "Death on the Job" report.

"Death on the Job" reports that another 50,000 to 60,000 workers died due to occupational diseases. On an average day, 15 workers lose their lives as a result of workplace injuries and disease, and another 10,959 are injured. Yet little has been done in recent years, says the report, to improve job safety and protect workers.