Three busloads of laid off steelworkers from the shutdown ArcelorMittal steel mill in Hennepin, Ill., were joined by leaders of the United Steelworkers and Gov. Patrick Quinn at Chicago's Federal Building Plaza Thursday with a message: 'Run it or sell it.'
Despite a $48 million profit last year, the Hennepin steel mill has been idle since December 2008, laying off 300 steelworkers in a county now with the state's highest jobless rate at 14.1 percent.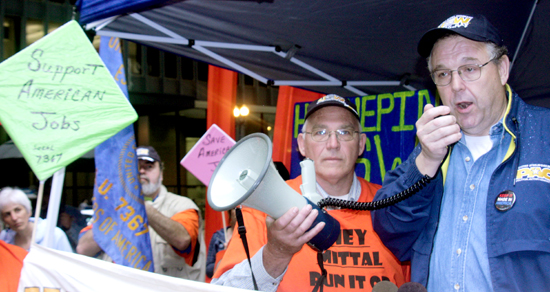 Click here to view more photos of the event
Jim Robinson, USW Director, District 7 says Illinois taxpayers gave $10 million in tax breaks to ArcelorMittal in 2005 to get the company to locate offices in Chicago. "Now they are closing a viable operation and are preparing to ship vital equipment to France and Brazil. Instead, they should sell the mill to viable bidders who will keep good-paying jobs here in America."
The North American headquarters for ArcelorMittal is near the Federal Building Plaza at One South Dearborn. The Hennepin mill is about 100 miles west of Chicago. Putnam County, where the Hennepin mill is located, currently has the highest jobless rate in Illinois at 14.1 percent. USW Local 7367 represent abouts 285 Steelwokers at the Hennepin plant.
"We need steel made in America to rebuild our infrastructure manufacturing base," declared Fred Redmond, USW international vice president, who attended the demonstration. "Let's make steel here, not import it and create jobs elsewhere."
Illinois Gov. Patrick Quinn also attended the rally along with David York, president of USW Local 7367.