On May 13, the "Keep It Made In America" bus tour landed USW Headquarters in Nashville, Tenn. About 150 union members, their families and friends gathered inside to hear Mary Alyce Dimoff from the Nashville Office perform, America the Beautiful.
USW District 9 Director, Dan Flippo, welcomed the guests and introduced the speakers for the rally. First up was Gary Casteel, UAW Region 8 Director who made some opening remarks.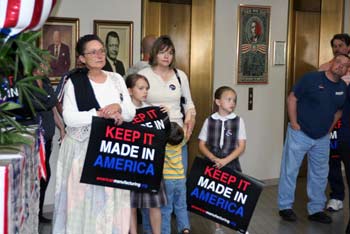 Click here to see more photos of the Keep It Made in America rally
Other speakers included: Representative Ty Cobb, 64th District, Maury County; Alderman Senna Mosley from the City of La Vergne; Jason Pryer, a USW member from Local 1055L in LaVergne; Lou Delatore from the Alliance for American Manufacturing and Pastor Maurice Harris, of the International Ministerial Fellowship.
Performers for the event included:
Shelby Bottom String Band (Nell Levin, Michael August, Holly Tashian, Bob Mason, Gene Bush and Dave Thomas) cook up old and new songs including some quirky Americana gems -- all delivered with down-home charm.
Craig Krampf, Grammy Award-winning songwriter and legendary rock drummer behind songs such as "Only The Lonely" and "Bette Davis Eyes." Craig has played on over 60 Gold and Platinum albums. He is the newly elected Secretary/Treasurer of AFM Local 257--The Nashville Musicians Association AFL-CIO.
Jonell Mosser, soulful singer whose work can be heard in such films as "Hope Floats" and "Boys on the Side," and who has performed with such talents as Ringo Starr and B.B. King. Jonell's new CD "Trust Yourself" has just shipped. A unique gifted vocalist.
Don Henry, Grammy Award-winning songwriter whose work has been recorded by Ray Charles, Kathy Mattea and many others.
Ashley Cleveland, a gritty, powerful singer and the only woman to win three Grammy Awards for best rock gospel album. Ashley is one of Nashville's most incredible singers.
Jason White, a phenomenal singer/songwriter whose song "Red Rag Top" was a top 5 chart record for Tim McGraw. Jason's CD "Tonight's Top Story" did great on the Alternative/Americana charts.
Darrell Scott, a Grammy nominated songwriter, who has written for the likes of The Dixie Chicks, Garth Brooks, Faith Hill, and has been named numerous times Songwriter of the Year
Tommy Womack, a first-rate songwriter and sneaky-good singer, whose generosity comes through in all his songs he writes and performs.