On July 8, the United Steelworkers (USW) International Executive Board came out in force to support members from Local Unions 07016 and 08428. Lead by International President Leo W. Gerard, officers and local union leaders held signs of solidarity for the 217 steelworkers who have been on strike for 16 weeks. Key issues for the members deal with respecting seniority and schedules.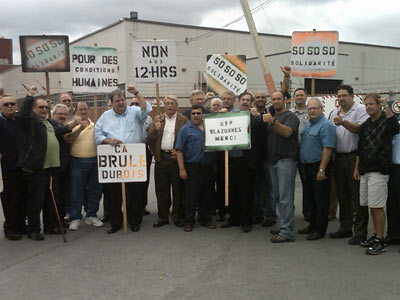 The workers with Prysmian Cables and Systems Canada, formerly Pirelli Cables, specialize in the production of electrical cables. Prysmian broke off talks even before the monetary issues of the contract were discussed. After more than twenty meetings, the members went on strike April 1.
The International Officers were in Montreal attending a quarterly Executive Board meeting.