This article originally appeared in the Labor Day 2009 edition of the USW's magazine, USW@Work.
Until it closed last year, Goodyear's Tyler, Texas, plant made the type of consumer tires that are the subject of the trade case filed by the USW against China with the U.S. International Trade Commission.
The Tyler plant employed about 1,450 at its peak to produce USW members to produce wholesale, private-label tires sized to fit 13,1 4 and 15 inch wheels -- the market segment that has been destroyed by a surge in imports from China.
"Tyler is pretty representative of a plant that did everything right,'' said Jim Wansley, retired president of USW Local 746L in Tyler.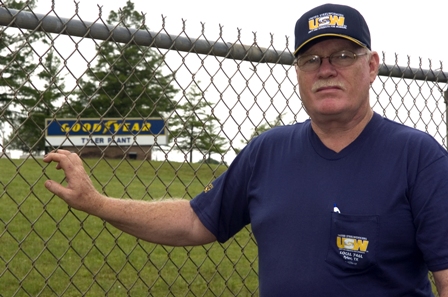 "We built a culture there, an employee involvement culture and we became the leaders in productivity, safety, waste innovation, and company-union relations in the seven years I was the union president," he added.
Empty shell
The plant, built in 1962 by Kelly Springfield and once the second-largest employer in Tyler, is now an empty shell and for sale. The asking price is $9.2 million for 1.12 million square feet of building under roof on 155 acres.
Goodyear had warned in negotiations that the market for the consumer tires made in Tyler was under attack, Wansley said.
"For over 10 years in our negotiations the company made it pretty plain that we were losing a whole segment of our tire market and that it was accelerating," he said.
"We've steadily lost plants and Tyler was the latest. As Goodyear goes into negotiations this year, they've already said they're not going to be able to maintain the number of plants that they have, so we're looking at another situation."
Tyler's fate was a key issue in the last round of negotiations with Goodyear three years ago. The deal worked out in late 2006 after a three-month strike allowed Goodyear to stick with plans to close the plant, but provided a one-year transition period during which workers would have an opportunity to take advantage of retirement buyouts.
Production stopped
The plant completely closed in 2008. Tire production stopped in January. A smaller rubber mixing operation that remained was halted later in the year.
The impact on the Tyler region has been far reaching when you count lost wages and benefits, taxes, charitable contributions, other spending and spin-off jobs.
"For the 1,200 or so jobs that we lost at the plant, the community lost another three to five times that. They lost their biggest United Way contributor. The impact just goes on and on," Wansley said.
"The state has been out untold millions of dollars in unemployment benefits and retraining and every bit of it is a direct result of foreign competition, unfair foreign competition."
The Tyler Economic Development Council estimates that the plant generated $948 million a year in direct and indirect spending in the local, regional and state economies.
The tire factory was the second biggest employer in Tyler behind an air conditioning factory, but it had the largest payroll in dollar terms, said Tom Mullins, the council's president and CEO.
"Because of the national union contract, there were great wages and great benefits and these guys were getting a lot of overtime. They were doing well,'' Mullins said. "These were good, middle-class, all-American manufacturing jobs that we hated to lose."