President Obama drew cheers and standing ovations when he spoke to union members today, declaring to the AFL-CIO convention that he will continue to fight for the middle class by supporting the Employee Free Choice Act, investment in American manufacturing and health insurance reform that offers working families stability, security and bargaining power. Click here to review full text of the speech.
Obama recalled the story of Steve Skvara, a USW retiree whose story about losing health coverage for his wife after a steel company bankruptcy was a key moment during the presidential campaign.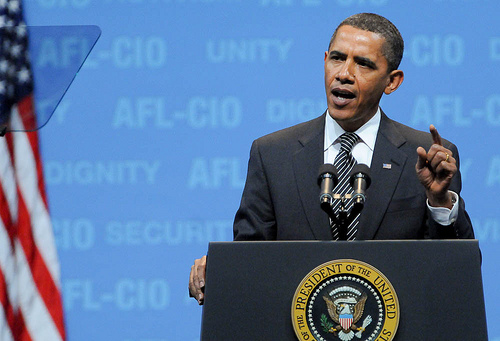 "Brothers and sisters this isn't just about Steve. It's about all of us," Obama said. "When organized labor succeeds that's when the middle class succeeds and when the middle class succeeds that's what the United States of America succeeds, and that's what we're fighting for."
"We're not turning back, we're moving forward," Obama promised, then detailed his plan that would hold insurers accountable, prohibit them from denying coverage for pre-exisiting conditions or limiting benefits when you get sick. Click here for the USW Health Care Tool Kit which has much more information about the president's plan.
"Health care can't wait," he added. When the president talked about how rising health care costs are keeping workers from negotiating wage increases, Obama received a rousing standing ovation as the crowd cheered, "We can't wait!"
Obama also declared his support for the Employee Free Choice, which would make it easier for workers to organize and bargain for a better life, and his appointment of former USW assistant Ron Bloom as the nation's manufacturing czar. Click here for USW's manufacturing tool kit.
"We want to make Made in America not just a slogan, we want to make it a reality," Obama said.
Outgoing ALF-CIO President John Sweeney introduced Obama, saying one of his last goals as leader of the federation was to "put a friend of working families into the White House, and I'm so glad we all did that. Today, the White House is the people's house, the way it should be."
"Thank you, Presdident Obama for standing for working families."