The AFL-CIO convention wrapped up today with several key moments, including the rejoining of UNITE HERE to the federation and a special award given to the daugher of a slain Colombian trade unionist.
The moments were fitting, given the day's theme: "One World, One Movement."
Asserting that "our 265,000 members belong in the House of Labor," UNITE HERE rejoined the 11.5 million-member AFL-CIO one day after Richard Trumka was elected president.
Underscoring the importance of unity within the labor movement at a moment when working families have an opportunity to win landmark improvements in jobs, health care and labor law, Trumka presented a charter to UNITE HERE president John W. Wilhelm.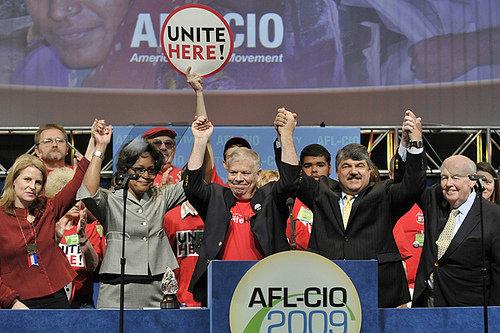 "A united labor movement will serve the interests of working people during this time of incredible opportunity," Trumka said. Click here for more on the reunification.
Trumka will continue to lead conversations with other unions about affiliation and reaffiliation. USW International President Leo W. Gerard is part of the committee of union leaders working to reunify unions under the AFL-CIO tent.
Also Thursday, Yessika Hoyos, founder of Sons and Daughters Against Impunity and for the Memory of the Fallen in Colombia received the AFL's George Meany-Lane Kirkland Human Rights Award.
"Destiny has brought me to be here with you today," Hoyos said in an emotional speech. "It is my father's hands, outstretched in solidarity, that receives this award. He would be smiling today."
Trumka, a friend of Dario Hoyos, praised Yessica as "an incredible woman."
"As a lawyer, she has fought tirelessly to bring her father's killers to justice and to end the cycle of violence in her native land. Even though the low-level trigger men responsible for her father's death have been prosecuted, the masterminds who ordered Dario Hoyos' death have not been found—an all-too-common scenario in the deadliest country in the world for union members," Trumka said.
Click here for a letter sent today from USW's President Gerard to Secretary of State Hillary Clinton condemning the treatment of Colombian miners being punished for striking in protest of the work place death of a colleague in one of the country's many dangerous mines operated by U.S.-based Drummond.
At the convention, Hoyos said through an interpreter that the solidarity of the U.S. union movement helps workers in Colombia go on, despite the nation being the deadliest place on Earth for trade unionists.
"You are the multipliers of our energy and our commitment. You strengthen our voices that demand justice and truth. You are the power in our raised fists. Your actions and your support encourage us to continue on our difficult path that will finally bring us to better and more dignified destinations. Thank you to all of you for being the multipliers of our memory, our voices, our hopes and our dreams," she said.
Hoyos, in spite of great risk to her life, in 2006 founded her organization to build a social movement that will preserve the memory of the murdered and will help bring an end to the impunity brought on by a failed prosecutorial and justice system.