Members of Unite the union today picketed outside a Deutsche Bank metals' conference in London to show solidarity for striking Vale Inco workers in Canada.
The protest organized by the global union, Workers Uniting, also included two United Steelworkers members who are striking the mining operations.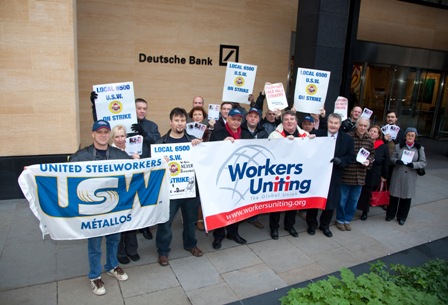 Keep reading to find out how you can show solidarity with our sisters and brothers in Canada.
Vale workers in Canada are on indefinite strike to defend their pay and conditions. Vale wants to impose drastic cuts to pensions and other benefits of the Canadian miners. The workers believe the company wants to push wages and conditions down to the level of Vale operations in Brazil.
"Mining natural resources has been a profitable enterprise for generations in Sudbury, Canada for both the company and the workers. For a multinational company to now attempt to slash living standards while enjoying sky-rocketing profits is totally unacceptable, " USW International President Leo W. Gerard said.
Click here for more of the Workers Uniting story. You can show support for our brothers and sisters, too.
Vale, the second largest mining company in the world, provoked 3,500 Steelworkers in Canada to strike over three months ago. Although Vale is a hugely profitable mining company, it is attacking our members' pensions, bonuses and seniority.
Now Vale wants to replace the striking Steelworkers. Send a message to Vale that this is wrong by clicking here. There you can send an e-mail to Vale demanding that it return to the bargaining table and make a fair offer.
For more on the Vale Inco strike, visit http://www.fairdealnow.ca/.