Unite Assisitant General Secretary Tony Burke and Smurfit Kappa CEO Clive Bowers have signed a historic learning agreement. Tony Burke said: "This is a ground-breaking national agreement between Unite and Smurfit Kappa to work together to give employees the training opportunities that will benefit the company and employees in accessing the learning and skills for the future. Unite and Smurfit Kappa, along with Proskills Sector Skills Council are working together to ensure that this Learning Agreement, delivers the needs of the members and the compnay. This will also include the first Proskills Skills Pledge Certificate signed by both parties."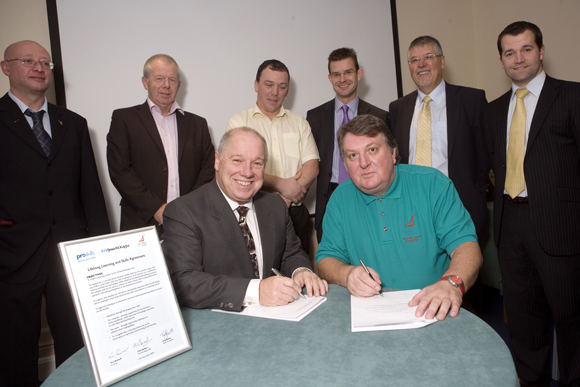 Clive Bowers CEO of Smurfit Kappa (left) and Tony Burke, Unite Assistant General Secretary (right)
sign the historic learning agreement
Smurfit Kappa Group (SKG) is a global paper based packaging company with leading market positions in Europe and in Latin America. It has sites throughout the UK and you can guarantee that if you shop at a supermarket, many of the items you buy will have been packaged at some point within Smurfit Kappa products.
Learning and training has always been a priority of Smurfit Kappa and signing a company wide agreement stemmed from a pilot training project run at the Stalybridge Plant. Unite Union Learning Rep (ULR) and FOC (Senior Convenor) Alan Alcock spotted an opportunity to convert an unused room into a learning centre for the benefit of the workforce. Following a presentation by him, Regional Director Andrew Burrows pledged the company support in partnership with Unite to get it up and running.
Alan, with the help of Unite Regional Learning Organiser Geoff Southern, recruited and got the support of other Unite ULRs. Together they worked with the company and local learning providers to get the Learning Centre up, functioning and used by the workforce.
This first Learning Centre is used to help employees take forward Key Skills, IT and vocational training as well as being used as a base to run company courses. It has been a real success in raising the skills level within the workforce. This has shown obvious benefits to them and the company, this on a personal development level for the workers, and for the company on the financial bottom line.
The members are now using the Learning Centre and 120 have signed up to do NVQ's in paper-making of which 50 are currently working towards a final certificate. We have also advertised "After Shift Computer Courses". Initially 35 signed up to do these courses and we hope for more in the future, so the centre now has 85 members.
The obvious next step following this success - and the win-win benefits for the company and the union - was to ensure learning opportunities were available across the UK company sites. Discussions on an Enabling Learning Agreement for the Smurfit Kappa Group were led by Unite's National Sector Skills Co-ordinator Bernard Rutter and Unite's Geoff Southern and Alan Alcock.
Bernard Rutter said: "The hard work that ULR Alan Alcock and RLO Geoff Southern have undertaken together has meant the Stalybridge project has become an example to the other Smurfit Kappa plants in the UK for learning opportunities".
Smurfit Kappa CEO Clive Bowers said: "It is pleasing that Unite, Proskills and Smurfti-Kappa are so linked in thought process on such an important topic as employee development. I am happy to promote and make available resources to enhance our employee skill base which will improve business performance and individual personal development. This initiative allows all employees Freedom of choice to pursue personal development programmes; it gives them the Appetite to improve their well being, the opportunity to connect with the Company, Union and Proskills and finally the courage to Explore more opportunities. In conclusion it allows everyone to FACE the future with confidence."