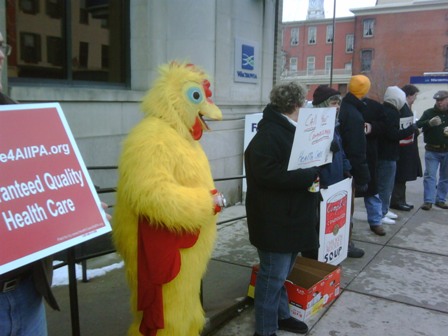 Declaring "chicken soup is no substitute for quality, universal health care," proponents on Monday passed out cans of chicken soup in front of Congressman Tim Holden's office. The demonstrators, including some USW members, encouraged local residents to remind the Congressman that America needs more than chicken soup when it comes to health care security.
"The watered-down, swill of a health care reform bill cooked up by the United States Senate doesn't amount to much more than chicken soup when it comes to providing workers health care security at affordable rates," said Anne Kurtek, President of the Schuylkill County Labor Council. "Congressman Holden got it wrong when he voted against the House health care reform bill in November. The House approach to health care reform is the right way to go and we want to see our congressman get back on the right side of history as this process unfolds."
Click here for more.