The United Steelworkers today joined forces with the Learning Disabilities Association, the Cancer Institute, and the Pennsylvania Nurses Association to call for reforms of the federal Toxic Substances Control Act needed to ensure the health and safety of America's workers and families.
USW's director of Health, Safety and the Environment Mike Wright, was among those who spoke at a press conference at the Steelworker's international headquarters. The group said being proactive about testing chemicals and for chemical exposure would not only save lives, but money.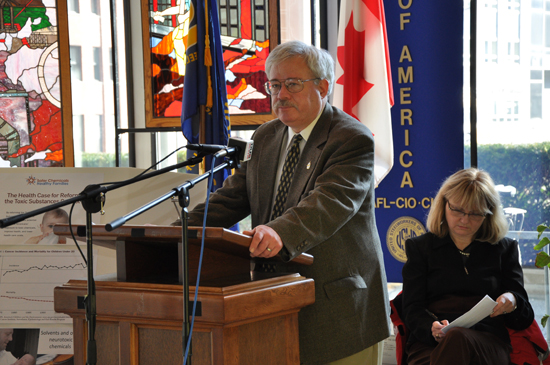 Michael Wright, United Steelworkers department head for Health, Safety and Environment
A new report, "The Health Case for Reforming Toxic Substances Control Act," shows that if there was a new health-based legislative framework to reduce chronic diseases caused by chemical exposure by 0.1 percent, it would reduce health care costs by $5 billion a year. And that's a very conservative estimate.

Dr. Maryann Donovan, associate director of research services for the University of Pittsburgh's Cancer Institute and director of the Center for Environmental Oncology
"It's not a matter of whether we test toxic chemicals. It's a matter of how we test them. Right now we test them in the bodies of our children, our consumers, our workers, ourselves. It's time to start testing chemicals in the lab, and to take action before anyone is harmed," Wright said.
The 34-year-old law has led to required testing of only 200 of the 80,000 chemicals used in the United States. Only five chemicals have been regulated.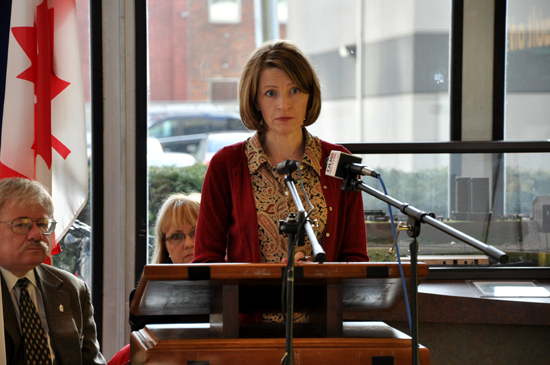 Maureen Swanson, national coordinator of the Healthy Children Project and the Pittsburgh-based Learning Disabilities Association of America
"In the last 30 years, a growing body of scientific evidence has shown that levels of chemicals once thought to be safe can actually cause great harm," said Maureen Swanson, national coordinator of the Learning Disabilities Association of America's Healthy Children Project.
Sen. Frank Lautenberg, D-N.J., and Rep. Bobby Rush, D-Ill., are expected to introduce new legislation meant to bring the toxics law into the 21st Century. Stay tuned to www.usw.org for the latest.