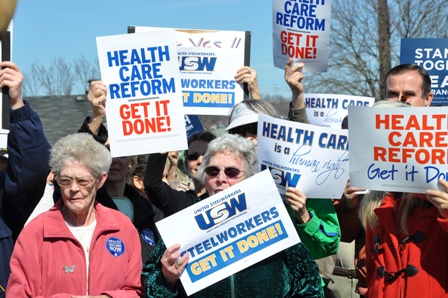 Nearly 200 supporters, including dozens of Steelworkers and members of Steelworkers Organization of Active Retirees, rallied for health insurance reform outside Rep. Jason Altmire's office today.
The crowd gathered outside the Pennsylvania Democrat's Aliquippa district office and urged the congressman to vote for President Obama's health insurance package. Click here to download a fact sheet outlining why health insurance reform matters, even if you have a good job. And click here to call your representative and urge them to vote yes for health insurance reform.

The crowd chanted "we'll fight for you when you fight for us" and "reform health care now" as several speakers talked about why it's so important for some of the nation's 46 million uninsured to get help now.
"What this bill is all about is securing the economy for middle class folks," said David Ninehouser of Pennsylvania Health Access Network, one of rally's organizers.

"We can get on the health care history train or we can get left further and further behind," Ninehouser said. "Our message to Congressman Altmire is to get on the health care history train together."

Click here to visit the USW health insurance toolkit and find out how you can get involved.