Hundreds of Rapid Response activists gathered today in Washington, D.C., for their annual conference and heard from multiple speakers that they are needed now more than ever. Click here for a photo slideshow from day one of the national Rapid Response conference.
From USW International President Leo W. Gerard to AFL-CIO President Rich Trumka and MSNBC's Ed Schultz, the union's best activists were thanked for their hard work to date and reminded that in today's environment it's vital that working families have a voice and to be active.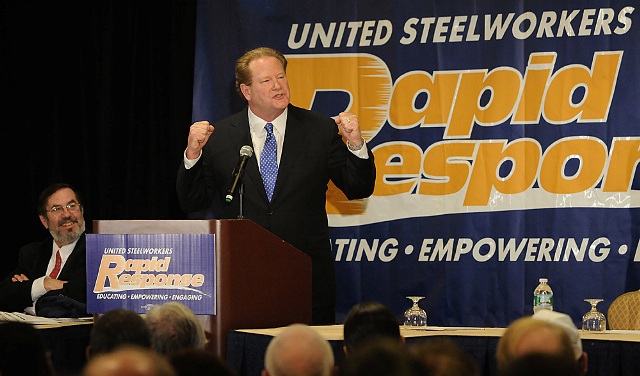 "We have to move because this is a war," Schultz said, reminding delegates about the attack from greedy corporations and others who are against working families. "We're in a war for the truth."
"This is a defining moment for Rapid Response, not just for Steelworkers, but Rapid Response now has to be embraced by every American," Schultz said.
Trumka told USW members that Rapid Response, which is celebrating its 15th anniversary, is a successful program that is emulated by several unions and other organizations because it works.
"They say reproduction is the greatest form of flattery," Trumka said.
He told the convention crowd that the labor movement is using the "educate, empower and engage" model to get Congress and others to turn our economy around. "Our goal is to create jobs, jobs and more jobs," Trumka said. "Everytime you see Congress that's got to be your message."
The more than 600 Rapid Response attendees will be among the more than 1,000 union members expected to gather Thursday on Capitol Hill at a rally to thank lawmakers who voted for health care reform and stood up to big insurance companies.
Gerard said the fight for health care is just one example of how USW's Rapid Response works. He cited fighting for far trade, holding off more unfair trade deals and working for secure jobs and pensions as other victories.
He said there's no substitution for member-to-member communication on issues important to all of us and for legislators to hear from real workers.
"We've changed the way political work gets done in Washington," Gerard said. "You're the inspiration that's going to get the work done."