USW International President Leo W. Gerard was joined today by U.S. Sen. Bob Casey and U.S. Steel Corp.'s Michael Williams, senior vice president of North American Flat-Roll Operations, to call for tougher action against China for its currency manipulation and unfair trading practices.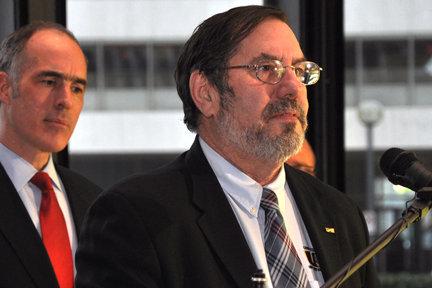 When China unfairly manipulates the value of its currency, the country is able to unfairly flood the U.S. with cheap goods. That hurts domestic manufacturers and workers, costing tens of thousands of American jobs.
"We're already in a trade war, we're just not fighting back," Gerard said at a news conference at USW International headquarters in Pittsburgh. "Senator Casey is showing us a path to a fight-back."
Casey, D-Pa., has bipartisan support for his Currency Exchange Oversight Reform Act legislation that was introduced recently along with Sens. Charles Schumer, D-N.Y, and Debbie Stabenow, D-Mich.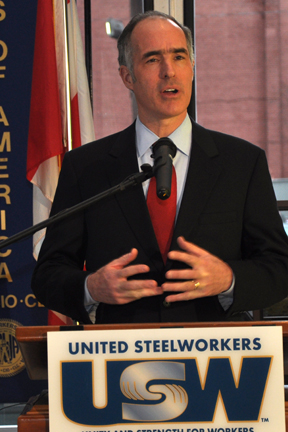 "We've got to take action to let the Chinese government know that we're serious," Casey said. "We're not going to sit back and wait for some engagement to lead to a better result for American workers and the American economy. We've got to take action now."
Casey's bill would make it easier for the Treasury Department to identify a currency as manipulated, which would trigger significant sanctions. It also would authorize the Commerce Department to take action against a nation with undervalued currency through anti-dumping measures or countervailing duties on imports.
The Alliance for American Manufacturing, a partnership between the USW and leading domestic steel manufacturers like U.S. Steel, also sent a message this week as Chinese President Hu Jintao visits the United States.
A new ad calling on President Obama to get tough on China for its unfair actions has been placed in various Washington, D.C., media. Click here for a copy of the ad, which declares: "Hu's on first. And he's about to steal home."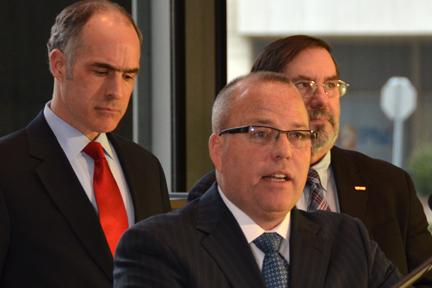 "It is critically important for President Obama to tell President Hu that the time has come for a more balanced economic relationship," said AAM Executive Director Scott Paul. "Currency manipulation, market-distorting subsidies, and harmful barriers to trade must be eliminated for the benefit of a global economic recovery."
"The President deserves credit for enforcing our trade laws when cheating exists. However, that commitment will mean little if further progress is not made during this official state visit," Paul said. "American manufacturing companies and their workers will be keenly watching and hoping for progress that will allow us to compete on a level playing field."
Click here to visit the USW's manufacturing tool kit, which has more information about how you can help us fight for American jobs.