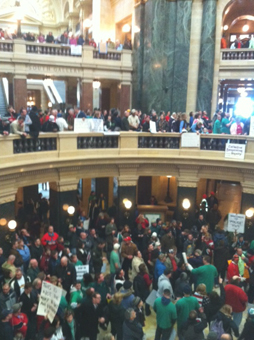 The USW is among those mobilizing in Wisconsin to send a clear message to Gov. Scott Walker, who is trying to balance the state's budget on the backs of working families and bust unions.
Scores of Steelworkers activists from across the country are making their way to Madison to join hundreds of local trade unionists for activities this week, including a major lobbying effort at the state capitol, legislative briefings, rallies and a march.
USW District 2 Director Michael Bolton and Rapid Response Coordinator Jay McMurran are leading member-to-member canvasses and spearheading the union's efforts.

These efforts are all part of our fighting back in states across the country, where radical anti-union political agendas are being pushed through legislatures by governors who want to balance their budgets strictly on the backs of blue-collar workers and their families. The USW is delivering this message loud and clear: We will not allow this to happen.
Stay tuned to www.usw.org, www.facebook.com/steelworkers and www.twitter.com/steelworkers for more updates from Wisconsin and more info about how you can get involved in this important fight. In the meantime, check out this segment from the Ed Schultz Show that exposes these efforts for what they really are: