Imagine i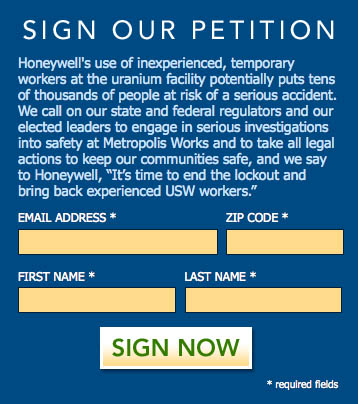 f the nuclear workers in earthquake-ravished Japan were inexperienced. Experience does matter, especially in dangerous industries where a mistake could mean catastrophe for communities.
Our hardworking sisters and brothers at USW Local 7-669 in Metropolis, Ill., have been locked out of their uranium processing plant by Honeywell for 261 days and counting. The company replaced them with inexperienced temporary workers, putting the surrounding communities at great risk. What's happening is another attack on middle class working people and another attempt to bust unions - the last line of defense against renegade corporations and greedy CEOs.
Show solidarity by signing our online petition demanding that Honeywell end the lockout and bring back the experienced USW members. Sign the petition, watch this video, "Experience Matters," then pass it on.