Tomorrow, U.S. House Minority Whip Rep. Steny Hoyer, D-Maryland, is due to launch the "Make It In America Agenda," a plan applauded by the United Steelworkers union.
In March, Hoyer talked about the ideal as a way to confront "one of our nation's defining challenges: strengthening and creating jobs for America's middle class."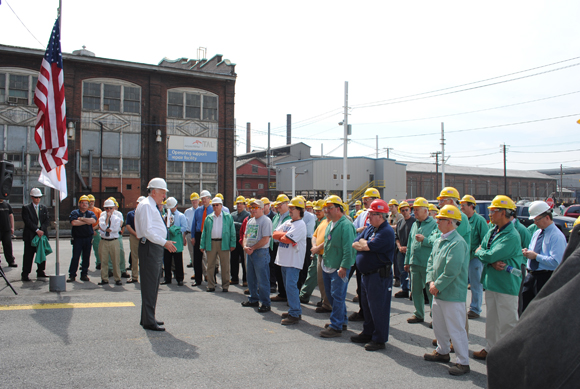 Congressman Steny Hoyer (D-MD), Democratic Minority Leader, spoke to USW LU 1688 day shift workers April 11 on his support of a legislative manufacturing package to 'Keep It Made in America.'
"That same goal is behind the Democrats' Make It In America agenda. Make It In America is about creating an environment in which American businesses can thrive, innovate, and create jobs here-and it is about ensuring we have a workforce that can fill the well-paying jobs of the future. I believe that when more products are made in America, more families will be able to Make It In America," Hoyer said. Click here to read his full March 2 testimony before the U.S. Senate Committee on Commerce, Science, and Transportation.
The Steelworkers made the following statement about the agenda: "We support efforts such as these that will help to revitalize American manufacturing and expand Buy America programs that utilize taxpayer dollars to produce goods here in the United States.
Congressman Hoyer's Agenda will also help put people back to work by making critical investments in our infrastructure and by supporting the development of clean energy technology through expanding advanced manufacturing for clean energy goods and components, and by creating programs that develop the mining of rare earth materials here in the United States.
The Hoyer Agenda will also help to level the playing field in trade by penalizing countries that manipulate their currency to gain an unfair trade advantage."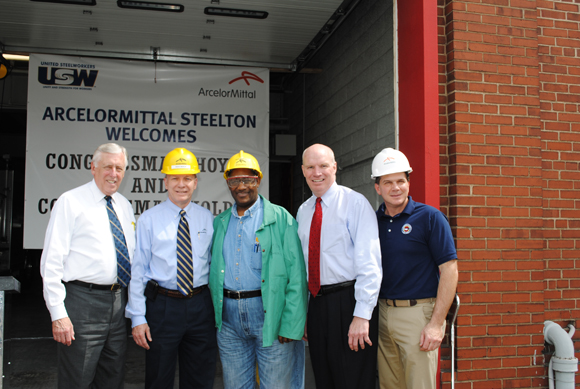 During a 'Keep It Made in America' legislative roll-out at the ArcelorMittal rail mill in Steelton, PA: From L to R: Minority Whip Steny Hoyer (D-MD); Dave Wirick, General Manager, ArcelorMittal Steelton; Greg Bowers, President, United Steelworkers Local 1688; Congressman Tim Holden (D-PA); and Frank Snyder, Secretary-Treasurer, Pennsylvania AFL-CIO.