By Barbara White Stack, USW Communications
Nancy Pelosi, minority leader of the U.S. House, announced at the 2011 USW Constitutional Convention opening session Monday that before bring flawed trade deals to the floor for approval; China's currency manipulation must be addressed.
In a speech greeted repeatedly by applause, Pelosi also pointed out the key differences between GOP and Democratic politicians – Republicans are job killers and Democrats support workers.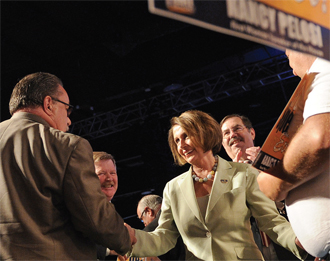 And Pelosi thanked Steelworkers for their help in getting health care reform passed and for support of clean energy legislation that will create jobs and improve the environment.
Democrats have already held up the proposed trade deals by demanding renewal of Trade Adjustment Assistance (TAA) for workers displaced by imports. Now, Pelosi suggested that the deals also fall behind action on China's manipulation of its currency, which causes its exports to the United States to be artificially cheap and U.S. exports to China to be artificially expensive. This works to suppress U.S. exports to China while flooding the U.S. market with Chinese goods. And that kills U.S. industry and jobs.
The Steelworkers, the Alliance for American Manufacturing and Democrats have insisted that the United States formally name China as a currency manipulator and consider the manipulation as a factor when the amount of import duties is determined.
In addition, Pelosi detailed the Democratic agenda to create jobs. For Steelworkers, among the most important of those programs is "Make It in America." This effort, launched by U.S. Rep. Steny Hoyer, (D-Md.), means, Pelosi said, "keeping American jobs on our shores." Make it in America, Pelosi said, means putting people to work building roads, bridges, and rail lines and developing clean, green technology.
"When we 'Make It in America,' our workers will make it in America," the minority leader said.
Democrats also want the newly-created Joint Committee on Deficits to also be a Joint Committee on Jobs, Pelosi said. All of its conversations should focus on economic growth and job creation to reduce the deficit, she said. It should, she said, focus on creating prosperity for all Americans, which will increase demand and as a result, increase jobs.
By contrast, she said, Republicans are pushing an anti-worker agenda in Washington and in states coast to coast, including attacks on unionized teachers and public workers in Wisconsin, Indiana and Ohio.
Republicans in Congress, she noted, are actually trying to help corporations ship jobs overseas by passing an Outsourcer's Bill of Rights, or as Pelosi called it, an Outsourcer's Bill of Wrongs.
In addition, she said, the GOP, at the behest of corporations, is trying to gut the National Labor Relations Board, attempting to punish workers for exercising their right to organize and demand better benefits, and trying to pervert the Federal Aviation Administration (FAA) funding process to strip airline workers of the right to organize the way other workers do.
"Steelworkers," Pelosi said, "I know you are ready to fight to get our economy back on track, to create jobs, and to Make It in America. Let us always stand up for a strong middle class – the backbone of American prosperity."
Click Here for more stories in the Day 1 Convention Newsletter