By Barbara White Stack and Jim McKay, USW Communications
Delegates on Monday unanimously -- and vehemently -- adopted a resolution echoing the theme of the 2011 USW International Convention, Stand Up, Fight Back.
"It's time to fight back," said delegate Tony Straka, of Local 4-149 n Edison, N.J. "It's time we recognized that the labor movement is the only institution in this country that's capable of fighting back and leading any kind of organized effort."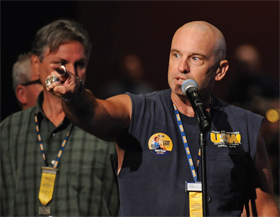 Delegates lined up at the microphones on the convention floor to support the resolution, which explains why Steelworker action is essential for economic and social equity, then outlines the union's commitments to achieve those goals for workers.
"Every worker should have a job where they have dignity with health care and retirement security,'' said David Hayes, president of the Goodyear local in Gadsden, Ala.
Denise Edwards, a representative of the Steelworker Organization of Active Retirees (SOAR), said the union's retirees will work to enact the resolution.
"Our SOAR members in Pennsylvania have gotten on the bus at 4 a.m. to join our brothers and sisters on the picket lines to keep our rights to organize and bargain,'' she said. "The retirees just want to know what time the bus is leaving."
More than 30 years of flawed economic policy in the United States have resulted in a dramatic rise in inequality and unchecked corporate power which in the fall of 2008 caused the worst recession since the Great Depression, the resolution says.
"This philosophy of deregulation, de-unionization, race-to-the-bottom globalization and financialization know as neo-liberalism has shifted power, income and wealth from workers to corporations and left us with severe structural imbalances between the real economy and the financial sector and has widened the gulf that divides the bargaining power of workers and employers."
If our countries are to have economies that work for workers, the resolutions says, Steelworkers must stand and fight to achieve it. It explains, "In order to have real freedom, in order to engage in the 'pursuit of happiness,' you must have freedom from want and fear and that requires employment. . .housing, medical care, education and the ability to retire with dignity."
Invoking the words of Tommy Douglas, former leader of Canada's New Democratic Party, "Courage, my friends; 'tis not too late to build a better world," the resolution calls on Steelworkers to:
Stand up and fight for social and economic justice, social programs that support those families hardest hit by the recession and full employment policies.
Stand up and fight for legislation facilitating organizing and collective bargaining.
Stand up and fight for economic stimulus programs in the United States and Canada to revitalize economies and for policies to redevelop a strong manufacturing base.
Stand up and fight to ensure government, at all levels, is properly financed and empowered to ensure quality public services.
Stand up and fight for substantive regulation of the financial sector and corporate accountability.
Stand up and fight for a global economy in which the rights of all workers and the environment are protected and trade is fair and balanced.
Click Here for more stories in the Day 1 Convention Newsletter