By Barbara White Stack, USW Communications
International President Leo W. Gerard opened the 2011 USW Convention by acknowledging past leaders, recognizing the work of our union forefathers and calling current members to stand and fight for workers' rights and preserve the middle class.

"The union movement and our allies need to mount a major assault for workers," Gerard told the 3,000 delegates and international guests assembled at the MGM conference center in Las Vegas Monday. This, he said, is the response to the assaults on workers that have occurred relentlessly in the past three years.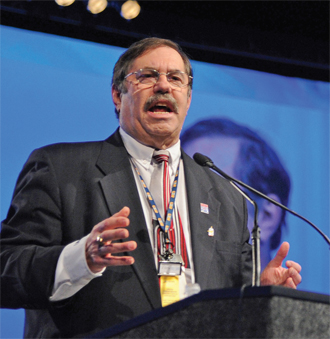 "Corporate executives won't give up living like kings without a fight. So, let's give them a fight," Gerard challenged the delegates. The delegates responded to this kind of sentiment with applause 20 times and with three standing ovations.

Steelworkers must stand up and fight for good jobs, decent wages, workers' rights to organize and strike without fear of scabs taking their jobs, Gerard said. They must stand up and fight for universal health care, a national manufacturing strategy and restoration of global leadership in manufacturing.

"There's no guarantee we'll win. The only thing that's guaranteed is the end of the labor movement – unless we fight," Gerard told the crowd, invoking the theme of the 2011 convention: Stand up, fight back!

Gerard walked the crowd through the tragic events of the past three years. Unregulated, reckless gambling on Wall Street crashed the U.S. economy, which knocked down the world economy. Unemployment skyrocketed. Housing values declined dramatically for the first time in history. Unprecedented numbers of foreclosures continue to take homes from working people. Wages stagnated and income inequality rose to pre-Great Depression levels in the United States and Canada.

Instead of aiding suffering working people, politicians demanded austerity and immediately-balanced budgets. They fought health care reform, opposed extension of unemployment benefits, tried to destroy social safety nets including Social Security and Medicare, Gerard noted. At the same time, he said, politicians refused to balance budgets by taxing the rich and ending corporate loopholes and subsidies.

Politicians are not working for working people anymore, he said: "They're working for the corporate billionaires who lavish their campaigns with cash."

Workers cannot depend on politicians, he said. They must fight for themselves, Gerard said, quoting Samuel Adams, signer of the Declaration of Independence:

"It does not take a majority to prevail, but rather an irate, tireless minority keen on setting brush fires of freedom in the minds of men."

"That's what we've got to do for our members," Gerard told the delegates. "That's what we've got to do for our economies, for our pursuit of universal health care, for the preservation of our pensions, for our families, our countries.

"We need to set brushfires of real freedom in the minds of our members."

Gerard noted that by sticking together and standing strong, Steelworkers have achieved awesome advancements in bargaining in these dire times, including winning successorship and coordinated bargaining in paper and substantial wage increases at Potash Corp. in Saskatchewan. The union preserved retiree benefits, the likes of which no other union has ever achieved. Steelworkers also, he noted, have pursued and won important trade cases protecting 56,000 member jobs over the past three years.

Steelworkers have shown they can win when they stand together. And now, Gerard said, they must stand and fight for their rights.

"We can only win the future if we fight for it!" Gerard said, and added:

"We know from years of bargaining that you can't win a better deal without fighting for strong demands. So sisters and brothers, be strong.

"Stand up and fight back – harder than ever."
Click Here for more stories in the Day 1 Convention Newsletter