By Jim McKay, USW Communications

Convention delegates leapt to their feet in a standing ovation Tuesday as International President Leo W. Gerard signed an enhanced alliance agreement with Los Mineros, Mexico's oppressed national union of mine and metal workers.

The agreement reaffirms a strategic alliance signed in 2005. It brings the USW "one step closer" to building a unified North American union that can confront multinational corporations in the United States, Canada and Mexico, the three countries party to the devastating North American Free Trade Agreement.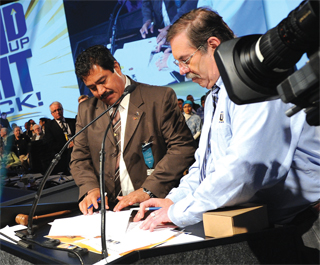 The signing before 3,000 delegates and guests came after an emotional address by Oralia Gomez de Casso, the wife of exiled Los Mineros leader Napoleon Gomez Urrutia, who is living in Canada and was prevented from traveling to Las Vegas by new bogus charges in Mexico.

Los Mineros leader Juan Linares, who had hoped to sign the agreement, was pulled off an airplane as he attempted to leave Mexico for the convention. The pact was instead signed by Los Mineros officer Sergio Beltran Reyes.

The agreement followed a 2010 pact between the two unions to create a cross-border commission to explore unification and increase strategic cooperation.

Gomez, who has been re-elected five times as general secretary of the union since being forced to flee Mexico five years ago, spoke by telephone to the convention.

He thanked the USW and other international unions for their support and solidarity, and pledged to continue his fight for justice in Mexico.

"The struggle is not over,'' he said. "We will continue until we reach a final victory, not only for Los Mineros but for trade unionists all over the world."

The two unions have for years fought side by side to resist attacks by corporations, aided and abetted by the government of Mexico, on the rights of Mexican workers and the existence of Los Mineros. They have supported each other in struggles on both sides of the border.

The agreement calls for the USW and Los Mineros to strengthen joint efforts to fight for workers in the three countries and affirms an earlier commitment to create a single North American organization.

The agreement calls for the USW and Los Mineros to remain separate labor organizations with separate constitutions. Neither will be liable for the legal obligations or debts of the other.

Councils will be created from USW and Minero local unions that will meet regularly to exchange information and facilitate strategic cooperation, support and organizing. A mechanism will be created to support cross-national organizing.

Each union will be entitled to observers with the right to speak but not vote on issues that come before their executive boards or committees. An exchange program of USW and Minero personnel, staff and membership will be developed. Language instruction will be explored.

The joint commission established in 2010 to advance joint initiatives will be expanded to include the USW's general counsel and director of international affairs. Los Mineros will get two additional representatives.

Click Here for more stories in the Day 2 Convention Newsletter