By Barbara White Stack, USW Communications

Delegates and guests jumped to their feet Wednesday as author Bob Herbert urged them to take to the streets, seize control of their democracy and demand jobs.

"You need to march. You need to protest. You need to badger the media to pay more attention to the unemployed and the young people of America whose futures are being so cruelly curtailed," said Herbert, a former columnist at The New York Times and author of Promises Betrayed.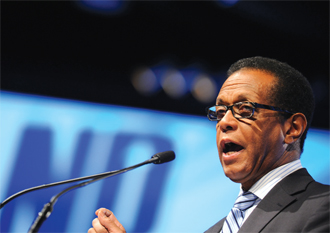 Herbert described the current financial crisis as a betrayal of working people by both the privileged rich and corrupted politicians and said workers can reverse this course.

"Make your personal stand against injustice," he urged the crowd to cheers and a standing ovation.

America has lost its way, he said. In the post-World War II era, employment was growing and millions moved into the economic mainstream. The future was brighter for the next generation.

Now, however, he said the United States fails to enforce trade law and ships jobs overseas. It allowed unregulated financiers to crash the economy, then bailed them out, but ignored the plight of the unemployed.

Herbert told the story of Rahn Harper, a 32-year-old GE branch manager from Ohio who was forced to sell his blood to support his wife and 4-year-old child after being downsized.

"You should not have to give blood to feed your family," Herbert said.

"The United States is in terrible trouble because we turned our backs on working people."

Workers, unions, families must raise their voices, rally, write letters, engage neighbors, challenge politicians who campaign as friends of labor then turn their backs on working men and women.

"The important thing is not to give up, not to lose faith, and never forget the tremendous power that is in your hands,'' he said.

Click Here for more stories in the Day 3 Convention Newsletter