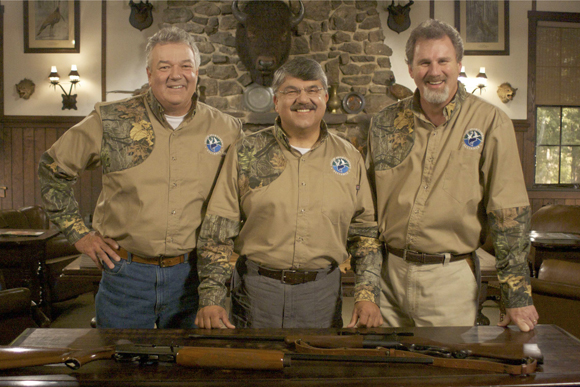 The Union worker and sportsman will be honored during the inaugural Brotherhood Outdoors Labor Day marathon, which will feature eight back-to-back episodes airing from 1 to 5 p.m. ET. on Monday, September 5 on Sportsman Channel—the leader in outdoor TV for the American Sportsman.

A collaboration between Sportsman Channel and the Union Sportsmen's Alliance (USA), the marathon will give viewers an intimate glimpse into the lives of these hardworking, blue-collar characters as they join host Tom Ackerman for an exhilarating North American trip of their choice or act as his guide, taking him to their favorite hunting or fishing spot.

Between episodes of Brotherhood Outdoors, Ackerman and AFL-CIO President Richard Trumka will join viewers to salute some of America's most historical and iconic outdoor companies and the workers who help make the gear outdoorsmen and women have come to know and trust.

Episodes Airing on September 5 include:
1:00 p.m. Texas Whitetail with a Steamfitter
1:30 p.m. Illinois Whitetail with a Firefighter
2:00 p.m. Kansas Geese with a Machinist
2:30 p.m. Montauk Stripers with a Steamfitter
3:00 p.m. Colorado Elk with a Painter
3:30 p.m. Missouri Waterfowl with a Sheet Metal Worker
4:00 p.m. Wyoming Pronghorn with a Sheet Metal Worker
4:30 p.m. (NEW!) Arizona Mule Deer with a Firefighter
In addition to corporate partners like Buck Knives and Burris Optics, Brotherhood Outdoors is made possible through the generous support of many of America's leading trade unions and contractor associations, including the International Association of Machinists and Aerospace Workers, International Brotherhood of Boilermakers, International Brotherhood of Electrical Workers, International Union of Bricklayers and Allied Craftworkers, International Union of Painters and Allied Trades, National Electrical Contractors Association, Sheet Metal Workers International Association and United Association of Journeymen and Apprentices of the Plumbing and Pipe Fitting Industry and its contractor partners.

For more information, visit www.BrotherhoodOutdoors.tv.