The United Steelworkers (USW) today endorsed U.S. Rep. Mark Critz for re-election as the representative of southwestern Pennsylvania's 12th Congressional District.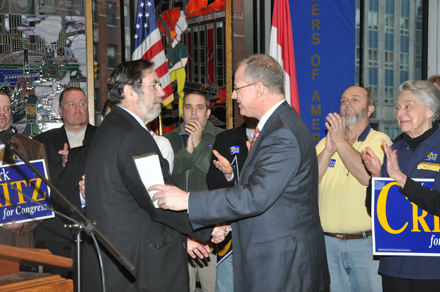 USW International President Leo W. Gerard said Critz has the endorsement of the international union, all of the USW local union presidents in the 12th Congressional District and SOAR, the union's retiree organization.

The USW represents more than 32,000 active and retired workers in the union-dense 12th District, which encompasses all of Greene and portions of Allegheny, Armstrong, Cambria, Fayette, Indiana, Somerset, Washington and Westmoreland counties.

Gerard said Critz, a former aide to the late Congressman Jack Murtha, knows the importance of manufacturing and industry and stands for industrial policies that will create good American jobs.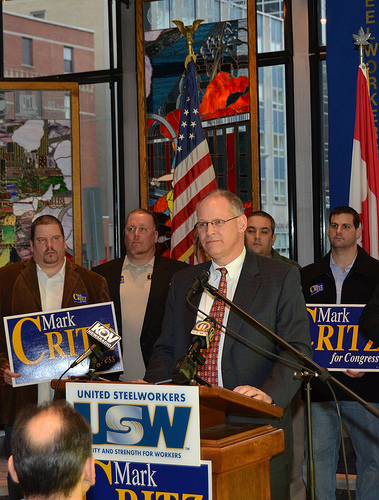 "He has always been there on the issues that matter to us," Gerard said.

Critz, a Johnstown Democrat, said he was humbled by the endorsement and promised to continue to stand up for working men and women in Pennsylvania.

"I went to Congress to fight, to fight for this area … I've never been afraid to fight anyone when it comes to the values of working men and women, and our seniors," he said.

"I've worked every day, every single day trying to create jobs back here in Western Pennsylvania and trying to uphold the values of the middle class, of working men and women, making sure that the schemes of Republicans in Congress don't attack things like Social Security, Medicare, Medicaid and veterans' benefits. It's fight. We have to stand together."