With an economy that is increasingly global, and a political environment across that globe that is increasingly hostile to workers, it is more important than ever to fight back by building international solidarity among unions.
That is the message from International President Leo W. Gerard and his counterparts from the United Electrical, Radio and Machine Workers of America (UE) and Mexican unions Los Mineros and Frente Auténtico del Trabajo (FAT).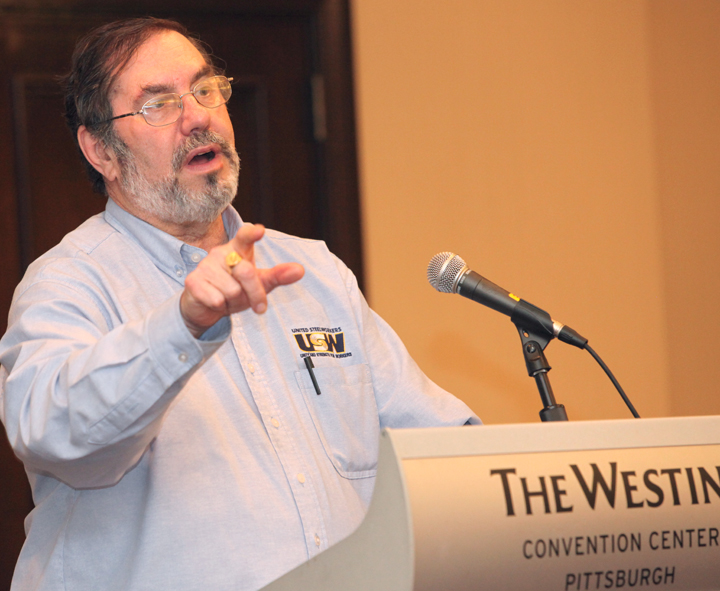 Leaders of the four unions, who have paved the way in building labor alliances among U.S., Canadian and Mexican workers, shared their stories of success and struggle as part of the United Association for Labor Education (UALE) conference on March 22 in Pittsburgh.
The alliances forged between the USW and Los Mineros, and between the UE and FAT, have their roots in the mid-1990s fight against the North American Free Trade Agreement (NAFTA). But they have blossomed more recently into full-blown partnerships that have provided a counterpoint to a coordinated global assault on workers' rights by multi-national corporations and political leaders.
"We see them as our partners at every level of this union," Gerard said, as he recounted stories of Los Mineros members demonstrating against common employers in solidarity with USW workers in the U.S. and Canada. "They are a part of our union, and we are part of theirs, and we're going to have that solidarity until the end of time."
In addition to the alliance with Los Mineros, that commitment to a global union has led the USW to form a relationship with UNITE, the largest union in Great Britain and Ireland, as well as efforts to unite workers across Europe, Asia and Australia. The USW also has taken on a leadership role in the International Metalworkers' Federation (IMF) and the International Federation of Chemical, Energy, Mine and General Workers' Unions (ICEM).
Because multi-national companies, such as Rio Tinto, Alcoa and ArcelorMittal, might employ USW members in the U.S. and Canada, Los Mineros members in Mexico, or UNITE members in England and Ireland, the theme "an injury to one is an injury to all" has taken on truly global significance.
The partnerships, though, have come with their share of challenges. In 2006, Los Mineros leader Napoleón Gómez Urrutia, who participated in the UALE event via videoconference, was forced to flee to Canada after the Mexican government filed trumped-up fraud charges against him. Though Mexican courts have dismissed the charges five times, and he has repeatedly been elected Los Mineros' leader, Gómez Urrutia remains in exile, in danger of arrest if he travels outside of Canada.
The situation is the result of "a systematic, treacherous attack" coordinated by the Mexican government and several multinational companies, Gómez Urrutia said.
Other challenges have included language barriers, high travel costs, technology, and local members who are not convinced that a global partnership benefits them.
Member-to-member exchanges, in which Mexican, Canadian and American workers visit each other's workplaces and share advice about successes and challenges on the job and at the bargaining table, have helped to bridge those gaps, Gerard said.
And the lessons learned and power gained through shared struggle far outweigh any challenges or costs to the arrangements, he said.
"I don't know many people in the U.S. or Canada, or at any level in the labor movement, who could take the kind of persecution that Napoleón has taken for six years and not flinch and still stand by his members," Gerard said. "That's why he is my hero."