Contact: Benjamin Davis, Director of International Affairs, 412-562-2501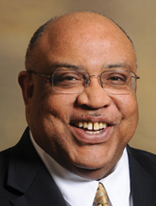 Pittsburgh - Fred Redmond, USW International Vice President (Human Affairs), has been elected to the Board of Directors of the National Endowment for Democracy (NED).

The NED is a private, nonprofit foundation dedicated to the growth and strengthening of democratic institutions around the world. With funding from the U.S. Congress, NED supports projects of non-governmental groups abroad who are working for democratic goals in more than 90 countries. NED is a major funder of the AFL-CIO Solidarity Center, a nonprofit organization that assists workers around the world who are struggling to build democratic and independent trade unions.
Redmond is a member of the AFL-CIO Executive Council and serves on its International Affairs Committee. He has traveled to Ghana, Liberia, South Africa, Zimbabwe, Colombia, and Mexico on missions to promote labor rights and democracy.
In war-torn Liberia, Redmond has coordinated a joint effort between the Steelworkers and the Solidarity Center to strengthen democratic trade unions and collective bargaining. As a result of this initiative, workers on the Firestone rubber plantation were able to organize. They have now negotiated two collective agreements with the employer, leading not only to improvements in working conditions and wages, but also gained access to high school education for workers' families—many for the first time. The Liberia initiative has now broadened to include ongoing support for a national democratic labor federation and expanded organizing in mining, oil and other extractive industries.
Redmond has been a leader of the labor movement's campaign to fight back against state laws that increasingly restrict citizens' right to vote – especially the poor, seniors, youth and minorities.
"Fred understands the real impact of globalization on worker rights and democracy, whether it's in Liberia or Indiana," said USW President Leo W. Gerard. "He will be a strong and tireless advocate on the National Endowment for Democracy Board for democracy and human rights everywhere in the world."
Redmond is chairman of the board of directors of the A. Philip Randolph Institute (APRI), and serves as the Region 6 representative for the Coalition of Black Trade Unionists (CBTU). He also serves on the Boards of Directors of the Trans Africa Forum and of Working America, a community affiliate of the AFL-CIO.
# # #