United Students Against Sweatshops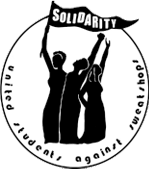 United Students Against Sweatshops (USAS) is a grass roots student run organization, and has been a close ally of the Steelworkers in the past six years. Steelworkers and USAS students have worked together to win campaigns on universities and fight destructive policy in Washington DC.
In the summer of 1998 USAS was founded based on the idea that universities play a role in propping up the global sweatshop system. In the summer of 1998, USAS had it's first summer conference with 30 schools represented. Students knew that their universities had the power to demand that apparel bearing their logo be made in a factory where workers rights are protected.
Students demanded that their universities adopt codes of conduct for licensees—the people who rent out university logos for apparel production (Nike, Champion, etc.) In the following school year students fought with administration to make their universities adopt codes of conduct. Administration was, naturally, non-responsive a wave of sit-ins ensued ensuring that some of the most important universities in the country adopted codes of conduct. Students at University of Michigan, University of Wisconsin: Madison, Georgetown, and Duke all occupied presidents' offices.
In July of 1999, over 200 students gathered in Washington, DC for the second Sweat-Free Campus Conference. Here, students decided to develop a code of conduct monitoring system, since codes of conduct are worthless if they are not monitored and enforced. It was at this conference that students drafted a proposal for an independent monitoring system that was paid for by universities and governed by students. The Workers Rights Consortium, as it was later called, developed out of this idea and commitment to workers rights and university accountability.
Another wave of direct action came about next year to push universities to join the new independent monitoring body. Once again, student power and solidarity prevailed. Students at Purdue University in West Lafayette Indiana went on hunger strike for eleven days, and eventually the university administration gave in to their demands. The students at Purdue worked closely with the Steelworkers, and on the tenth day of the hunger strike, hundreds of Steelworkers called the president of Purdue demanding an end to the hunger strike.