Union Sportsmen Alliance
http://www.unionsportsmen.org/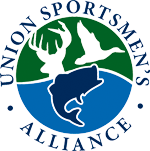 Union Sportsmen's Alliance (USA) is North America's premier hunting and fishing association of conservation-minded union members who hunt, fish and enjoy the outdoors. The USA gives you the opportunity to join with fellow union sportsmen to create a better future for hunting and fishing, while providing money-saving deals and other great benefits that are sure to get your heart pumping.

Planning a hunting or fishing trip? Interested to know if the weather will be good or how long it will take to travel there. We have all the information you'll need to make this a great outing.
From the Union Sportsmen's Alliance Web site you can map-out trips, get state-by-state regulations, visit state DNR websites, and buy your license right over the internet.