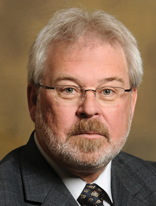 Daniel Roy
Director District 5
Daniel Roy was appointed by the USW International Executive Board as Director of District 5 in 2007 and was re-elected to the position in 2009.
Roy was born in Sept-Îles, Québec in 1959. A welder by trade, he was hired by Raymond Industries in 1976. He became president of his unit and then president of amalgamated Local 7065, representing approximately 1,000 members.
In April 1991, Roy was hired as a staff representative for the North Shore, the lower St. Lawrence, the Gaspé Peninsula and the Îles-de-la-Madeleine. He became area staff coordinator for this region in 1999. Subsequently, he coordinated negotiations in the iron industry on the Québec North Shore.
In 2004, he was appointed area staff coordinator in St-Jean-sur-Richelieu. Two years later, he became Assistant to the District Director and managed six area staff coordinators and administered the finances of the district.
New approaches to traditional problems define Roy's leadership. Saving jobs and organizing will continue to be his highest priorities. Economic issues for Québec and conservation of public services such as health care are some of his interests.

Roy holds the position of vice-president of the Québec Federation of Labour (QFL), the largest labour federation in Québec, with more than 500,000 members. He is a member of the Québec Solidarity Fund (Fonds de solidarité FTQ), which has assets of $7 billion. He is the chairman of the Mining Sector Committee. And he is a member of the Commission de la santé et de la sécurité au travail (CSST), a joint commission on health and safety.
The headquarters for District 5 is in Montreal, Québec.
USW District 5
565, boulevard Crémazie East – Suite 5100
Montreal, Québec, Canada H2M 2V8
514 382-9596 - Telephone
514 382-0668 - FAX
Province: Québec