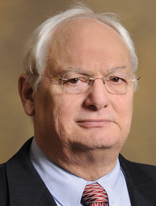 J.M. (Mickey) Breaux
Director District 13
Effective July 1, 2006, the International Executive Board appointed a former USW District 13 International representative, J.M. (Mickey) Breaux, as Director for District 13. Re-elected in 2009, Breaux is originally from Local 13-423.
Breaux is responsible for 50,000 USW members in Texas, Louisiana, Oklahoma and Arkansas. In addition, Breaux chairs the Temple-Inland and Boise-Cascade councils.
Breaux is from Port Arthur, Texas, and his father, who worked at Texaco, now Shell Motiva, was a member of the Oil, Chemical & Atomic Workers (OCAW) Local 4-23, the predecessor to USW 13-423.
Breaux joined OCAW Local 4-23 in 1969 when he went to work at Atlantic Richfield. As a rank-and-filer, he served or chaired various union committees including negotiations, health and safety, workers compensation, strike strategy and the United Way.
OCAW President Bob Wages appointed him to be an International representative in 1996, and he then headed the Crown Central Petroleum lockout negotiations for four years. He also served as the District 13 coordinator for Rapid Response for three years.
In addition, Breaux was active in the United Way, Texas AFL-CIO and the Democratic Party.
The headquarters for District 13 is in Baytown, Texas.
USW District 13
1300 Rollingbrook Drive, Suite 504
Baytown, TX 77521
832.556.0370 – Telephone
832.556.0378 - FAX
State(s): AR, LA, OK, TX