Manufacturing Matters | March 31, 2010
Treasury Secretary visits USW headquarters, members with manufacturing matters message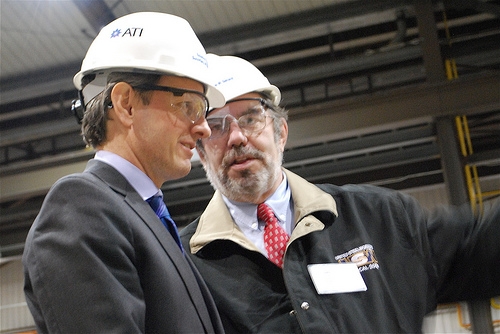 U.S. Treasury Secretary Tim Geithner visited USW headquarters and an Allegheny Technologies' plant in Washington, Pa., on Wednesday and sent the message that manufacturing matters and is a big part of getting our economy back on track.
Geithner toured the high-tech specialty metals plant with USW International President Leo W. Gerard, ATI CEO Patrick Hassey and others. Then he met with USW members who work at the plant, answering questions over lunch. He talked about the importance of modern manufacturing and exports to the U.S. economy and said the administration is focused on helping Main Street, not just Wall Street. Geithner told workers that the economy was making a slow but steady recovery.
Then the secretary visited USW International headquarters, where he met privately with Gerard and several chief executives of manufacturing companies. Geithner also spoke to the media, saying President Obama's decisions have been tough but necessary to helping the nation during the Great Recession.

"The President is making the tough choices to make things better, to make the economy work better for the middle class and for the main street business. He's taking on the hard, sometimes unpopular, challenges that matter, not just right now as we work to get the economy creating jobs again, but that will matter for our children, that will make Americans more secure, more confident they will have a job with growing income, be able to afford college, retire with financial security, and have access to more affordable health care. This is about getting better results from Washington," Geithner said.

"Financial reform is about making our economy work for Main Street again," he said. Click here for his full remarks. Check out the photo slide show below. And don't forget to visit our manufacturing toolkit.